As vaccines gradually roll out and restrictions on indoor dining loosen across the country, restaurant owners are working tirelessly to reopen in a way that is safe for both guests and employees. Masks, social distancing and limited capacity are all well-known tools restaurants can deploy to reduce the risk of COVID-19 transmission. For extra protection, it's also a good idea to use an air purifier in your restaurant. Here's what you need to know about restaurant air purifiers and how they can help you keep COVID-19 at bay in your establishment.
What Kind of Air Purifiers Do Restaurants Need?
When picking out an air purifier for your restaurant, there are a few things you'll need to consider. First and foremost, it's important to select the right type of air purifier for targeting the virus that causes COVID-19. HEPA air purifiers have been shown to be effective in capturing virus-sized particles and are being widely used for protection against COVID-19 spread in enclosed spaces. It's also helpful to get a model that features a UV-C germicidal lamp. UV light neutralizes bacteria, viruses and mold spores in the air. Between a HEPA filter to capture viruses and a UV lamp to neutralize them, you'll have a fairly good level of protection.
Next, you need to take the size of your restaurant into account. The more times an air purifier can change out the air in your dining area, the better off you'll be. Ideally, you should use a high-capacity air purifier that can perform multiple air changes per hour in the space it's used in. If you have a large restaurant, placing multiple air purifiers around your dining area is likely the way to go.
In addition to air purifiers providing general coverage in the dining area, you may also want to think about making tabletop air purifiers available to your guests. To learn more about how smaller units can provide extra protection for your guests, check out our blog post about tabletop air purifiers for restaurants.
Which Air Purifiers Are Best for Restaurants?
Taking high capacity and a combination of HEPA and UV-C filtration into account, a few air purifiers stand out for their ability to capture viruses in a restaurant environment. Below, you'll find three of our top restaurant air purifier picks.
Airpura UV600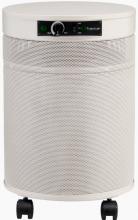 Thanks to its high airflow capacity and combination HEPA/UV system, the Airpura UV600 stands out as a great choice for use in restaurants. This unit offers a delivered air flow rate of up to 366 cubic feet per minute, one of the industry's highest. With this high air flow rate, you can be confident that the air in your restaurant is being purified quickly and regularly. This unit also includes carbon filtration that will help eliminate odors and gases.
AllerAir AirMedic Pro 6 Exec UV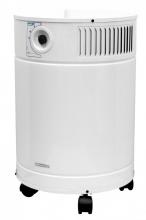 The highest capacity unit from AllerAir, the AirMedic Pro 6 Exec UV delivers up to 290 cubic feet per minute of air flow. This air purifier's HEPA filters outperform the basic HEPA requirements, capturing up to 99.99 percent of particles greater than 0.1 micron in diameter. While the CFM delivery is a bit lower than the Airpura UV600, this air purifier is a good option for medium-sized restaurants.
Field Controls TRIO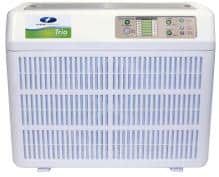 Last but certainly not least on the list is the Field Controls Trio. This medical-grade air purifier delivers a maximum of 265 cubic feet per minute of air flow and is intended for use in spaces of 1,000 square feet or less, making it a good option for smaller restaurants and private dining rooms. With that said, you can certainly use more than one unit in a larger space to deliver hospital-level air purification throughout your establishment.
Have questions about air purifiers for restaurants or which units are right for your business? We're here to help! Feel free to contact us with your questions, and we'll be happy to provide you with answers and product recommendations based on the needs of your unique restaurant.