Since COVID-19 reached the US early this year, businesses of all kinds have been forced to adapt rapidly. From social distancing measures to new cleaning protocols, the pandemic has drastically changed how businesses look. Restaurants are no exception, and many are suffering as diners prove reluctant to return to indoor restaurants. Now, some restaurants are tackling the problem by offering guests the option of tabletop air purifiers. Here's what you need to know about tabletop air purifiers for restaurants and whether they are an effective tool for your restaurant.
Why Would Restaurants Want Air Purifiers at Their Tables?
Needless to say, buying an air purifier for each table in a restaurant is a considerable investment. The problem of diner confidence, though, warrants novel solutions. In the United States, lockdowns during March, April and May forced many restaurants to shut down their indoor services. When restrictions were lifted, many diners continued to avoid restaurants for fear of catching COVID-19. While curbside pickups continued, this phenomenon has deprived many eateries of add-on sales opportunities in the form of drinks, appetizers and deserts that would normally be bought on impulse.
With winter coming, restaurants may not even have seen the worst of the COVID-19 scare. Diners who have felt comfortable eating outside may not be as eager to move indoors as the weather cools. For this reason, it's important for restaurants to do everything they can to make guests feel safe and secure as winter approaches.
This is where tabletop air purifiers come into play. By placing an air purifier at a guest's table, your restaurant can help that guest feel a bit safer. Doing so also sends the message that your establishment is doing everything it possibly can to keep patrons safe.
Are Tabletop Air Purifiers Actually an Effective Tool in the Fight Against COVID-19?
Beyond just making patrons feel safer, using small air purifiers at your tables may also help to reduce the chances of COVID-19 spreading in your establishment. When used in conjunction with social distancing practices and masks, air purification can offer an extra layer of protection to both your guests and your staff. Using air purifiers at tables may reduce the chances of an asymptomatic carrier spreading the disease to others at your restaurant.
What Air Purifiers Are Best for Restaurant Tables?
It goes without saying that an air purifier that's going to be set on a restaurant table needs to be fairly small. It's also important that the unit run quietly so that guests can enjoy their meals without excess noise. To help, we've put together a short list of compact, quiet air purifiers that may be right for your restaurant:
Airfree Tulip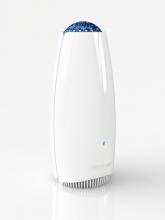 Using a filterless thermal core, the Airfree Tulip can neutralize viruses, as well as bacteria, pollen, dust and other solid contaminants in the air. This unit is completely silent, making it a good choice for tabletop use.
Amaircare Roomaid HEPA
The Amaircare Roomaid is a compact HEPA air purifier that stands just 7.5 inches tall. HEPA filters have been shown to be effective in capturing virus-sized particles, and larger units using the same technology are among our top recommended options for air purification in the time of COVID-19.
Airfree T800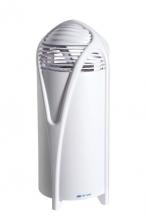 Although less powerful than the Tulip, the Airfree T800 utilizes the same thermal technology and is an economical option for restaurants that need to buy large numbers of air purifiers to use at their tables.
Have questions about purchasing tabletop air purifiers for your restaurant? We're here to help! Feel free to contact us with your questions, and we'll be happy to provide you with answers and product recommendations based on your needs.