Amaircare
Amaircare Roomaid Portable HEPA Air Purifier
4.50
(

2

reviews)
Model:
amaircare-roomaid-HEPA
Ozone Free:
Certified UL 867 / UL 2998
Leadtime estimated at 1-3 weeks.
To improve efficiency, during COVID Amaircare has decided to pause production of the Roomaid series.
Coverage for 300 sqft. Comes with a 5 YEAR Limited Warranty on Parts & Labor. It is easily portable to study room, bedroom, etc at home. Ideal for small areas such as office, hotel room, or even the car. Focus is on annoying allergens that can hinder breathing and optimal health such as pollen, pet dander, mold, pet hair, dust and more.
Product Description
Coverage for 300 sqft. Comes with a 5 YEAR Limited Warranty on Parts & Labor. It is easily portable to study room, bedroom, etc at home. Take it to any residential or small office room, hotel or even in the car.
The Amaircare Roomaid Portable HEPA Air Purifier is ideal for bedrooms, small offices and other areas where space may be limited. The Roomaid is constructed of metal so that it will not emit toxins like some plastic models. The Amaircare Roomaid's pre-filter is washable foam, so it can be used over and over. It comes standard with 7ft. adapter cord and spare washable pre-filter.
Roomaid HEPA Key Features
- True HEPA & VOC Filters
- 3-Stage Filtration
- Easy-to-Change Filters
- Metal Construction
- High-Efficiency Fans
- 2-Speed Fan
- Optimized Air-flow
- 360-Degree Air Intake
- Spare Washable Pre-filter
Roomaid 3-Stage Air Filtration
Stage 1: Pre-filter
(Washable for reuse)
Removes dust and odors.

Stage 2: True HEPA Filter
(Avg. filter life of 2-5 years)
99.97% Efficient. Amaircare Roomaid's True HEPA is a sealed canister that keeps pollutants from escaping back into the air. Removes items from the air such as dust, pollen, bacteria, pet dander, attached viruses, cigarette smoke, mold and mildew. 19 sqft. of HEPA filter to capture air pollutants.

Stage 3: OPTIONAL VOC Filter
(Avg. filter life of 6-12 months)
Removes hazardous VOCs (Volatile Organic Compounds) from the air that come from things made with chemicals such as cleaners, paints, carpets, and furniture.This is used in the Roomaid VOC air purifier.
Specifications
Roomaid HEPA PRODUCT SPECS

YES @ 20 - 40 CFM (CUBIC FEET PER MINUTE)
Class: Portable HEPA Filtration System
Delivered Airflow: 20-40 CFM (Cubic Feet per Minute)
Dimensions: 8.5" round, 7.5" high
Control: 3 position, 2 speed switch
Power Consumption: 5 watts
Outflow: 360°
Filter Life:
- Pre-Filter: Washable (12 months)
- HEPA Filter: 2-5 years
- Carbon Blanket: 6 months
- Optional V.O.C. Canister: 12 months
Comparison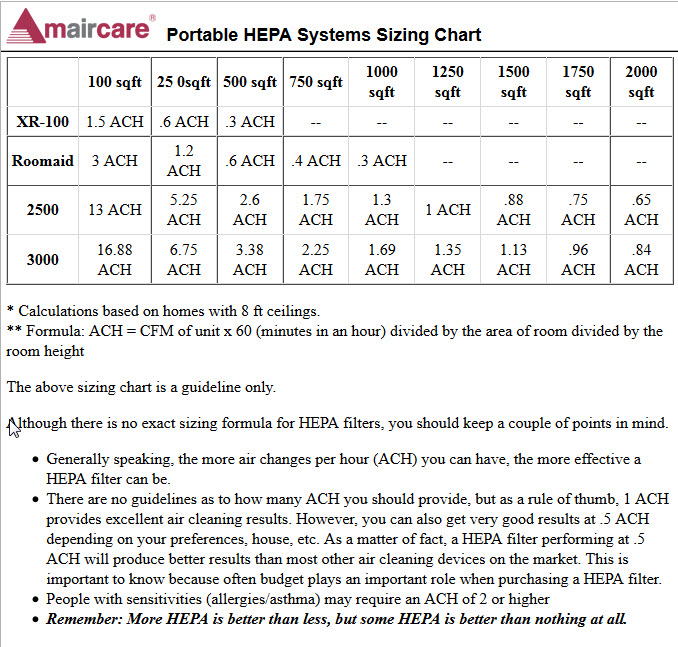 Compliments of Amaircare
More Info
Product Reviews
4.50
Global Rating:

4.50

from 2 reviews
Add your review of this product
5.0
Anonymous' rating and review
By

Anonymous
Worked great and compact.
4.0
TED K'S RATING & REVIEW
By

Ted K.
This air purifier has been great for my travels. I keep it in the backseat of the car while driving and take it into my hotel room while I'm out of town on business. Hotels can wreak havoc on a person with allergies. My Roomaid helps me a lot.
Q&A