Ideal Pro Air Purifiers From Germany
Ideal Pro Air Purifiers designed and made in Germany offer the highest quality air purification. Ideal Pro professional high-performance air purifiers feature extremely powerful airflow at a surprisingly low decibel rating. These user-friendly purifiers are easy to maintain and only require the combination filter to be changed yearly.
Maximum air purification consistently designed with quality in mind by using the top-of-the-range components. Ideal Pro redefines the industry standards.
UL Certified and CARB certified.
This unique filter contains multiple layers of filtration all in one 360 degree design: 1. Prefilter Mesh 2. Prefilter Layer 3. HEPA Microfiber Layer 4. Activated Carbon Layer and 5. Cover Layer.
The best products require the best materials.
Ideal Pro allows you to relax, knowing that they only use tried and tested raw materials. These range from high-quality steel for their cutting units and blades, all the way down to the tiniest screws. Details also make the difference for applications. You can not only see, but also feel our intelligent technology. These air purifiers are particularly straightforward and convenient to use, leaving you more time to focus on the key issues.
Generous with ideas while sparing with resources.
Protecting the environment has been one of Ideal Pro's core values since the company was founded in 1951. It is a concept we have been consistently implementing ever since, for example through high-grade materials and purchased parts from sustainable production operations, our powder coating center with water-based washing system, the lead-free soldering unit in our PCB manufacturing operations, clearly labelled plastic parts for environmentally friendly recycling, as well as, optimized production processes that minimize waste and scrap.
We give everything our very best. All the time. Guaranteed.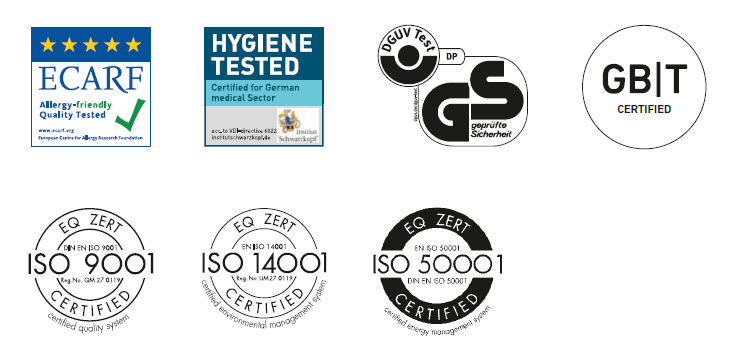 Not only are the IDEAL Pro purifiers UL Certified and CARB certified but also ISO 9001, ISO 14002, ISO 50001.
We work with attention to detail and we always keep the bigger picture in view – with the help of strict quality, environmental and energy management systems. That's guaranteed, since we are certified to numerous recognized standards: DIN EN ISO 9001:2015, DIN EN ISO 14001:2015 and DIN EN ISO 50001:2018. Even the very best must be put to the test, because there is always potentially room for a little improvement.
Let's take a closer look at this unique filter design: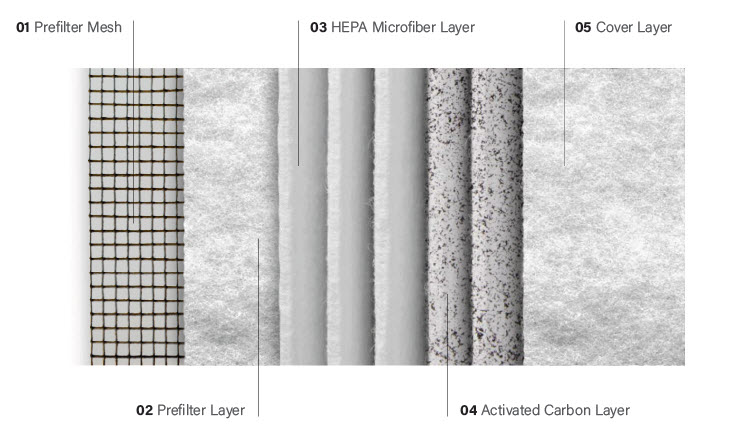 1. Prefilter Mesh: The prefilter mesh encompasses the 360 degree multi-layer filter and removes coarse dirt like hair, lint and dust.
2. Prefilter Layer: The prefilter filters out the coarse particulate matter and extends the service life of the HEPA.
3. HEPA Microfiber Layer: The HEPA microfiber layer filters respirable and ultra-fine particles (PM10, PM2.5, PM0.3 and PM0.1)
4. Activated Carbon Layer: The activated carbon layer neutralizes inanimate organic contaminants and strong odors.
5. Cover Layer: The cover layer protects the high proportion of activated carbon.