Air purifiers can be used practically anywhere, from offices and homes to
college dorm rooms
. But, did you know that they can also help keep the air in your car clean? Vehicles present their own unique challenges when it comes to maintaining high air quality, not the least of which is the fact that most air purifiers aren't adaptable to an automotive power plug. Fortunately, one of the best car air purifiers on the market, the Amaircare Roomaid, is available here at US Air Purifiers! Here's what you need to know about using an air purifier in your car and why the Amaircare Roomaid is a great model to have with you on the road.
  Why Would You Need a Car Air Purifier?
There are several good reasons to use an air purifier in your car, particularly when you're driving long distances. The most important of these is the fact that pollution from vehicle exhaust gets inside your car when you drive, lowering the quality of the air you're breathing. Studies have shown that nitrogen dioxide (NO2) levels from exhaust can get
just as high inside a car
as outside. When it comes to exhaust particulates, your car's ventilation system may give you some protection, but not enough to maintain high air quality levels. Likewise,
running the air conditioning
can help keep pollution levels to a minimum, but they will still be elevated. Beyond the problems caused by vehicle exhaust, the air inside a car is subject to all of the same quality issues that the air in your home or office is. Pollen, non-exhaust pollution and other contaminants can get in from the outside, especially if you drive with your windows down. Finally, the
interior of the car itself
can present some problems. Plastics and foams used in interior parts can release chemicals into the air, particularly when they are allowed to get too hot in the summertime. In fact, the "new car smell" that many people experience immediately after purchasing an off-the-line car is a result of this kind of off gassing. Together, these facts form a strong argument for investing in a car air purifier. Between NO2, exhaust particulates, ordinary air impurities and chemical fumes from interior parts, the quality of the air in your car experiences downward pressure from multiple sides. The question, then, is what kind of air purifier you can use to combat the problem.
  What Kind of Air Purifier Do You Need?
Because the air quality issues inside your car include both particles and gases, you will need an air purifier that combines HEPA and carbon filters to target a broad range of contaminants. A HEPA filter will remove particles, while the carbon can mitigate gases, fumes and odors. In addition to the filters it requires, a car air purifier must also be relatively small, portable and be able to plug into a cigarette lighter receptacle. Because of these requirements, most standard residential air purifiers aren't well-suited to being used in cars.
  Why the Amaircare Roomaid VOC Is the Best Car Air Purifier
Taking these factors into account, the Amaircare Roomaid VOC stands out a great solution for use in your car, truck or SUV. This air purifier offers carbon filtration for a focus on gases and VOCs, but also includes a HEPA filter to deal with particles. With a car adapter plug, this air purifier is specifically designed for use inside of vehicles.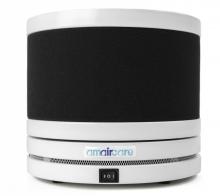 The Roomaid VOC is also extremely compact and portable. Weighing only 5 pounds and standing just 7.5 inches high, this air purifier is easy to pick up and take with you, no matter where you're going. This also makes it a great unit for taking to the office with you or using in hotel rooms when you're on a trip. Just run the unit in the car while you're driving, then unplug it from the adapter and bring it in with you when you reach your destination. Despite its small size, the Roomaid's 300 square foot capacity makes it a great solution for small spaces outside the car as well. Aside from its advantages as an air purifier for car use, the Amaircare Roomaid VOC is also a very well-constructed unit. Featuring 360-degree air intake, all-steel construction and a 2-speed high-efficiency fan, this model offers high quality and great value in a small package.