When it comes to preventing allergies, removing airborne dust and just keeping the air you breathe clean in general, a HEPA air purifier is an essential tool. Many people, though, think that air purifiers are too noisy and will make it difficult for them to sleep, relax or focus. The idea that air purifiers are too loud is usually overblown, but there are several models made specifically to be quieter than their competitors. Here's what you need to know about air purifier noise levels and six of our top picks for the best quiet HEPA air purifier.
  Are Air Purifiers Loud in General?
There's a common misconception that air purifiers make a great deal of noise when running. This was somewhat true of older models, which typically used much less efficient fans than the options you'll find in today's market. Today, there are very few truly loud air purifiers, and most models are quiet enough that noise won't become a serious problem. With that said, there are still air purifiers that stand out as being quieter than others. These units are designed to be as close to silent as possible while still delivering great air quality. As a general rule, quiet air purifiers have multiple fan settings, allowing them to be turned down to lower volume levels when needed. With variable fan speeds, the air purifier can be set to a low level whenever you need some peace and quiet.
  What Rooms Need Quiet HEPA Air Purifiers?
While a low-noise purifier is always handy, there are certain settings that require one. Any space where work or study is done, for example, needs to be kept quiet. If your office or study space gets too loud, it can become difficult to concentrate on the tasks at hand. While some white noise can be helpful, a loud fan roaring in your ear will almost certainly make you less productive. Quiet air purifiers are also essential in bedrooms. High noise levels can reduce your sleep quality, making you tired and less effective throughout the day. At the same time, clean air in your bedroom is extremely important, as you likely spend 7-8 hours each night in that room. Other rooms can also benefit from low-noise air purification systems. Living rooms where you and your family come to spend time together, for instance, are likely not spaces in which you want a high ambient noise level. Similarly, kitchens or dining areas should be kept relatively quiet so that your meals can be eaten without a loud hum in the background. It's also worth noting that some people are more noise-sensitive than others. If you are relatively resilient to noise, you may only need a quiet purifier in your bedroom. If you are sensitive to volume, though, you may prefer getting a higher coverage air purifier to provide clean air throughout your entire home at low volume. This aspect of the selection process is mostly a matter of personal taste, so be sure to take your own noise sensitivity into account.
  Why Do Air Purifiers Make Noise?
Even though the noise level of modern air purifiers is usually overblown, it is a fact that all HEPA air purifiers do produce at least some noise while running. This is because purifiers use fans to force air through the filter material to clean it. While modern fans are much more efficient than their older counterparts, any moving fan blade will make a little bit of noise. So, the challenge for quiet air purifiers is to reduce that noise as much as possible, rather than to eliminate it altogether.
  Best Quiet HEPA Air Purifiers
To help you find the right unit for your needs, we've put together a list of six of our top quiet HEPA air purifiers. While all of these units are quieter than average, they also have other great features that make them stand out on their own merits as purifiers.
  IQAir HealthPro
IQAir's HealthPro
is a great air purifier for people looking to get clean air with minimal noise. With its HyperHEPA technology, this purifier removes even smaller particles than standard HEPA models, all while maintaining an extremely quiet volume. This unit's quiet operation is achieved through the use of special sound dampening design. Key features of this model include:
  1,240 square foot coverage
  Medical grade filtration
  Quiet, efficient fan
  10-year warranty
Thanks to its high-efficiency filters and low noise levels, the IQAir HealthPro is one of the best quiet HEPA air purifiers you'll find. It also has the advantage of being compatible with a gas and odor filtration cell. Using this feature, you can enhance your purifier's abilities. The HealthPro is also compatible with
IQAir's AirVisual Pro
air quality meter. This monitoring system helps you understand your home air quality and provides useful advice to help you improve it over time.
  Rabbit Air Minus A2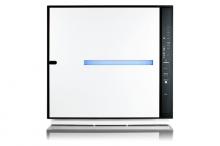 The
Rabbit Air Minus A2
is a high-quality combination HEPA and carbon filtered air purifier that operates at very low noise levels. In addition to its ultra-quiet operation, the Minus A2 also features a soothing mood light meant to make it a relaxing part of your home decor. Key features of this model include:
  815 square foot coverage
  6-stage filtration
  Automatic quality monitoring
  Filter replacement indicator light
  Automatic ultra-quiet night mode
  Wall mountable
Thanks to its many useful and intuitive features, the Rabbit Air Minus A2 is a perennial favorite here at US Air Purifiers. One of the best of these features is its automatic night mode. When the purifier senses low light levels, it will automatically adjust itself to its quietest setting. This makes it an ideal choice for bedrooms, as you won't have to manually change the settings before you go to sleep.
  Austin Air Bedroom Machine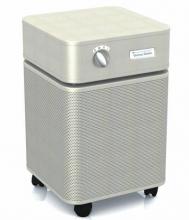 Designed specifically for use in sleeping spaces, the
Austin Air Bedroom Machine
is a quiet HEPA air purifier that can help you get a better night's sleep. By removing a wide range of particles and gases, the Bedroom Machine allows you to get improved sleep with less exposure to contaminants. Key features of this model include:
  1,500 square foot coverage
  Combination HEPA and carbon filtration
  Steel construction
  3 fan speeds
  360-degree air intake
Even though this model runs quietly, it won't let you down in terms of performance. Austin Air constructed the bedroom machine with next-generation filters based on research conducted at Johns Hopkins University. These filters allow the bedroom machine to catch gases and smaller particles at an improved rate, delivering cleaner air without sacrificing efficiency.
  EnviroKlenz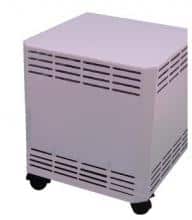 Made for optimum filtering of both particles and gases, the
EnviroKlenz air purifier
is a unit that does well for almost any application. In addition to excellent filtration capabilities, this model can operate at extremely low volume levels on its lower settings. On low, this unit is quieter than a fan, while on its unique Whisp-Air setting it produces no detectable increase to ambient noise levels. As a result, the EnviroKlenz richly deserves a place on this list of quiet HEPA air purifiers. Key features of this model include:
  1,000 square feet of coverage
  HEPA filtration
  Patented VOC filtration system
  Dial control
  Wheels for easy mobility
While we typically recommend the EnviroKlenz for removing gases and odors, it is also an excellent HEPA purifier. Whether you need protection from VOCs or everyday particles, this air purifier is a great option.
  Amaircare 3000 HEPA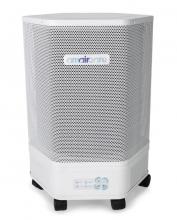 When it comes to quiet HEPA air purifiers, the
Amaircare 3000 HEPA
is a unit that can't be ignored. With both a quiet low setting and a special silent mode, this air purifier can keep delivering clean air at very low noise levels. Thanks to its ability to cover up to 1,800 square feet, the 3000 HEPA is also a great choice for medium-sized homes and large apartments. Key features of this model include:
  1,800 square foot coverage
  Combination HEPA and carbon filtration
  360-degree air intake
  Metal construction
  Filter change reminder feature
  Variable fan speeds
  Silent mode
Thanks to its overall quality and great features, the Amaircare 3000 HEPA frequently appears on our rundowns of the best air purifiers for various uses. If you need protection from pollen, dust, dander, mold spores and other particles, this is an air purifier that won't let you down.
  Airpura R600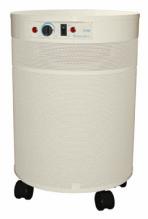 Last but certainly not least on our list is the
Airpura R600
, an all-purpose air purifier featuring both HEPA and carbon filters. This model runs at quite minimal volumes when used on its low setting, making it a good option for spaces where noise needs to be cut out. Key features of this model include:
  2,000 square foot coverage
  HEPA and carbon filtration
  Targets both gases and particles, great for allergy and asthma sufferers
While the R600 is a general use purifier, it does target both gases and particles extremely well. The HEPA filter in this unit uses a total of 40 feet of material, while the carbon drum filter includes 18 pounds of activated carbon. Between these two, the R600 is a great choice for practically any common contaminant.
  Is One Purifier Better Than the Others?
In terms of sheer noise reduction, the Rabbit Air Minus A2 is likely the best model on this list, given the overall volume range in which it operates. An argument can also be made for the EnviroKlenz and Amaircare 3000 HEPA, as each has a made in which it operates effectively silently. However, each of the air purifiers listed above has features that make it a good choice, which is why we created a list instead of recommending a single product. At the end of the day, it's about which one is the best for you, rather than which one is the best overall.
  How to Pick the Best Model for Your Needs
Picking out a quiet air purifier is about more than just considering noise levels. You also need to think about the size of your space and the features you want your purifier to have. If you try to decide based on noise levels alone, you'll likely miss out on other important aspects of the air purifier selection process. It's also important to keep your budget in mind. Air purifiers come in at many different price points, but there are great options available at every level. Whether you need to keep your spending in check or not, there's an air purifier out there that will suit your needs.
  Should You Keep Your Air Purifier on Low All the Time?
As stated above, the quietest air purifiers are generally those that have low fan settings as an option. This brings up the interesting question of whether you should leave your purifier on low at all times. While you could take this approach, a better solution is to set the unit on a higher setting when quiet isn't essential. For example, you might decide to turn your air purifier up to a higher fan speed during the day while you're at work, then turn it back down when you come home. This saves you listening to ambient noise while allowing the unit to clean the air as thoroughly as possible. This is another area in which the Rabbit Air Minus A2 stands out. Because of its automatic night mode, you can turn your air purifier to a low setting simply by turning out the lights. This lets the Minus A2 run optimally throughout the day, then put itself into a quieter maintenance mode at night. If you mostly need quiet during the night, this makes the A2 a nearly perfect option.
  Still Have Questions About Quiet HEPA Air Purifiers?
We're here to help! Feel free to contact us with your questions, and we'll be happy to provide you with answers and personalized product recommendations based on your unique needs. If you're looking for a quiet HEPA air purifier for your bedroom, office or study space, we have the models you need to deliver clean air at low volume levels.