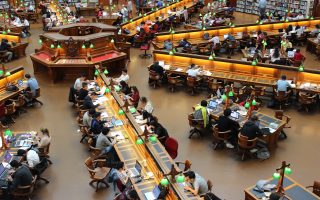 As the school year gets closer and closer, parents of both younger children and college students are increasingly looking for ways to keep their kids safe when in-person learning returns in the fall. While testing, social distancing and mask use will be the main tools colleges and universities use to keep COVID-19 from spreading on campus, we've received questions about using air purifiers for dorm rooms to provide extra protection. Here's what you need to know about using air purifiers to reduce the chances of COVID-19 transmission in a dorm setting and which units we recommend.
Why Use an Air Purifier in a Dorm Setting?
COVID-19 has fundamentally changed how colleges and universities will operate in the 2020-21 school year. The question of reopening at all has become controversial, with some arguing that the risks are too high for classes to be held safely.
At most colleges, dorm rooms are relatively small, indoor spaces that are shared between students. These are precisely the sorts of conditions under which transmission of COVID-19 is believed to be most likely. As a result, it's important to take steps to reduce the load of the virus in the air.
What Type of Air Purifier Should You Be Using?
If you've visited our blog before, you may be familiar with our existing post about dorm room air purifiers, which was written long before the COVID-19 pandemic. In that post, we looked at small, silent air purifiers that would allow students to study in total peace without taking up any more room than necessary.
Today, the situation is different. We recommend using high-quality HEPA air purifiers, as HEPA filters can capture many virus-sized particles through a diffusion phenomenon. Some of the units we recommend also include UV germicidal lamps, which leverage UV-C radiation to kill bacteria, viruses and other biological contaminants.
We also recommend choosing an air purifier with a high air flow capacity. With greater air flow, an air purifier will be able to circulate the air in a given space more frequently, reducing the chances that viruses will remain suspended in the air. For students who don't mind some background noise, a unit with a 360-degree air intake is preferred.
Our Top Recommended Air Purifiers for Dorm Rooms
Taking the above criteria into account, we've come up with a list of our top recommended dorm room air purifiers for the 2020-21 school year. You'll find our top picks listed below, along with brief descriptions of their advantages:
Amaircare 3000 HEPA: High-quality HEPA filtration with carbon filtering for chemical and VOC protection.
Austin Air HealthMate: HEPA and carbon filtration with over 250 CFM airflow capacity and 360-degree intake.
Austin Air HealthMate Jr: Similar to the HealthMate, but rated for smaller spaces. HealthMate is ideal for superior protection, but the HealthMate Jr. is suitable if space is at a premium.
Airpura I600: 100 square foot HEPA filter material surface area with healthcare-level filtration. UV upgrade available.
Field Controls TRIO: Medical-grade air purification with HEPA, carbon and UV filter stages. Slightly noisier, but excellent protection.
Airfree Onix 3000: Silent but less powerful. This is a filterless air purifier, meaning students won't have to perform maintenance.
What Else Can You Do to Keep Your Student Safe?
In addition to sending them off to school with a good air purifier, there are a few other steps you can take to help students get through the school year safely. Sending a good supply of face masks and hand sanitizer is a good idea, since students will likely go through these essentials fairly quickly. If possible, you may want to find an inexpensive car for your student to use, since public transportation may be associated with higher risk of virus transmission.
Have other questions about using air purifiers for dorm rooms in the time of COVID-19? We're here to help! Feel free to contact us, and we'll be happy to help you pick out the perfect air purifier for your son or daughter's dorm.