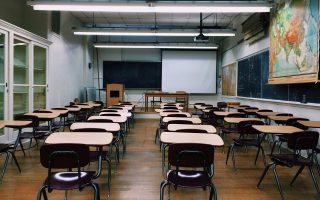 As schools begin to reopen across the country, parents, teachers, administrators and school nurses are all working as hard as possible to keep students safe in the classroom. While personal protective equipment, masks and regular screenings are well-known tools to keep students from spreading COVID19, air purification technology also has a role to play.  Air purifiers for schools should not be overlooked as part of a safe reopening, as they may be able to help reduce the chances of transmission between students in the classroom.
Recently, we were directed to a set of guidelines released by the American Society of Heating, Refrigeration and Air Conditioning Engineers (ASHRAE) for safe school reopenings. In this article, we'll summarize some of those guidelines so that school officials and teachers can better understand the air purification technology they will need in the classroom this coming year.
Air Purifiers for Classrooms
One of the most straightforward recommendations from ASHRAE is the introduction of a combination HEPA and UV air purifier into each classroom. The society recommends selecting a unit that can perform a minimum of two air changes per hour in the given space. Because HEPA filters can trap virus-sized particles and ultraviolet light can render viruses inert, this combination creates a dual system for reducing the level of the virus in classroom air.
Although the guideline of two air changes per hour is the minimum, we have also seen guidance that recommends 3-4 ACH. Ultimately, if possible, it is generally best to shoot for a higher number of air changes per hour. The more air changes your air purifier can perform per hour, the more quickly and effectively it will remove viruses and other contaminants from the air.
Air Filtration for School Nurse's Office
Needless to say, the requirements for student medical facilities are higher than those for the general classroom setting. When treated as an isolation room, ASHRAE recommends that student medical facilities utilize a completely dedicated HVAC filtering system that can perform 6-10 air changes per hour. With this higher rate of air exchange, the system can more effectively capture viruses and keep their from building up in the air.
Selecting Air Purifiers for Schools
If your school does not already have proper air purifiers for its classrooms selected, now is the time to consider getting them. Because each school will have different layouts and classroom sizes, we recommend contacting us directly to help you select the right air purifiers for your classrooms.
For more information on how proper use of air filtration and HVAC systems can help your school keep students safer in the 2020-21 school year, we strongly recommend reading through the ASHRAE guidelines in their entirety (linked again here for your convenience). Using these guidelines, you can take extra steps to keep students, teachers, parents and family member safe while providing in-person learning this school year.