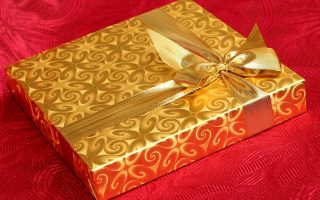 The holidays are coming up again, and that means that it's time to start thinking about gifts for loved ones! While you may never have thought of an air purifier as a gift item before, it actually makes a great present under many circumstances. To help you pick out the right unit for your friends or family members, we've put together a basic gift giving guide. Keep reading to learn how you should pick out an air purifier and see some great units that could make the perfect gift!
Step 1: Set Your Budget
Like any gift, you need to know what you're prepared to spend on an air purifier. Based on brand, features, filter type and capacity, air purifiers can run the gamut in terms of price. If you're on a budget, you can choose from a variety of air purifiers under $300 that will help deliver cleaner air in small spaces. If you don't mind spending a bit more, you can find a wide selection of home air purifiers that will suit just about any situation.
Step 2: Consider the Need
Next, you should think about why your chosen recipient needs an air purifier. If the purpose of the gift is to give a general-use air purifier for all-around cleaner air, a good unit with HEPA and carbon filtration will do the trick nicely. Some units to think of in this category include the Airpura R600, Rabbit Air Minus A2 and Austin Air HealthMate.
If the recipient has a more specific need, you may need a more specialized air purifier. Someone who's susceptible to respiratory infections, for instance, might benefit from a UV air purifier that can neutralize airborne bacteria and viruses. Someone with heavy chemical sensitivities would likely do best with the Airpura G600DLX, an air purifier designed specifically for maximum filtering of chemicals and VOCs. Whatever specific reason your friend or relative may have for needing an air purifier, there are models out there to support that need.
Step 3: Think About the Space
The size of the space an air purifier will be used in is also a key factor in picking one out. If you're giving a general-purpose air purifier to a student living in a dorm or small apartment, for instance, you might consider the Airfree line of filterless air purifiers. For larger spaces, consider a unit with a higher CFM airflow rating. The more volume of air an air purifier can move in a given time, the larger a space it can effectively be used in.
Step 4: Decide on Additional Features
Finally, you should think about extra features the recipient might want. A filter change indicator light, for example, is an extremely convenient feature that prevents the owner from having to manually track filter change schedules. If you think the recipient will need to move the air purifier regularly, rolling casters can make the job much easier. Small features like these add convenience and functionality, so they're worth considering before you buy.
Who Should You Gift Air Purifiers To?
An air purifier can be a good gift for just about anyone, but there are a few groups of people who will benefit most from them. First and foremost, people who suffer from allergies, asthma or other respiratory illnesses will benefit from the gift of cleaner air. Older relatives are also prime recipients, since the right air purifier can help them stay healthy. An air purifier is also a good choice for college students living in dorms, since it may help them avoid getting sick while living in tight quarters with other students.
Have questions about which air purifier is right for you? We're here to help! Feel free to contact us with your questions, and we'll be happy to provide you with answers and product recommendations. If you just can't decide, consider letting your loved one do the work of choosing for you! US Air Purifiers offers both electronic and physical gift certificates. Just decide on the amount and how it will be delivered, and the recipient can choose his or her own air purifier!