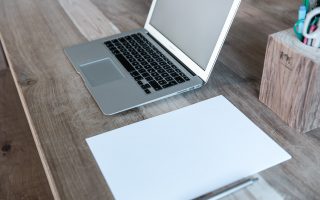 Over the last year, the onset of the COVID-19 pandemic has made indoor air quality a major area of focus in practically every workplace. As a result, more and more businesses and individual workers have been looking into air purification solutions. One option that is frequently overlooked, though, is using desktop air purifiers to offer extra protection in the workplace. Here's what you need to know about small-sized air purifiers you can use at your workstation and three of our picks for the best office desk air purifiers.
Why Should You Use a Desktop Air Purifier?
Even before COVID-19 began sweeping across the world, office air quality was a serious cause for concern. Indoor air pollution from chemical cleaners, mold, dust and other sources is well-known as a contributing factor to poor employee health.
Now, there's even more reason to use air purifiers in the office. In June, a survey found that about half of America's office workers were reluctant to return to work due to concerns related to the virus. Little has changed since then, and many professionals are still worried that they could be taking on outsized risks by returning to work.
Although offices should invest in commercial air purifiers to keep their staff safe, there's also a strong argument to be made for desktop air purifiers. These small units can help to keep the air immediately surrounding them cleaner, allowing you to breathe higher-quality air at your desk. Using one can be especially helpful if you suffer from allergies, asthma or other chronic respiratory conditions.
Our Best Office Desk Air Purifiers
As you can probably imagine, an air purifier must be both small and extremely quiet to be used on an office desk. Although it's important to maintain high air quality in your workplace, you still need to have ample room and a quiet environment in which to work. Below, you'll find our top 3 best office desk air purifiers that can help to give you better air quality at work without taking up too much space or creating a noisy work environment.
Airfree Onix 3000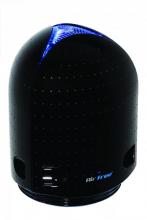 The Airfree Onix 3000 is a filterless air purifier that uses a thermal core to destroy solid contaminants in the air. Bacteria, mold spores, viruses, dust, pollen and other solid materials can all be caught and neutralized by this innovative air purifier. The Onix's filterless system also makes it completely silent. At just 10.4 inches high by 8.4 inches wide, this air purifier is small enough to fit comfortably at just about any work station. The only real downside of this air purifier is that it doesn't have the capacity to tackle gaseous contaminants like odors or VOCs.
Vortex LED Air Purifier Lamp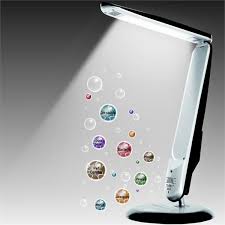 In talking about the best office desk air purifiers, it's almost impossible not to list the Vortex LED Air Purifier Lamp. This high-quality lamp and air purifier combination is perfect for office use. Like the Onix, the Vortex is a good choice for dealing with solid contaminants, including viruses and bacteria.
In addition to its capabilities as an air purifier, the Vortex is an extremely useful LED lamp. With noise-reducing technology, the lamp prevents the undulating hum that some lamps give off. It can also be used in both daylight and nighttime modes, allowing you to set the temperature of the light you want.
Amaircare Roomaid VOC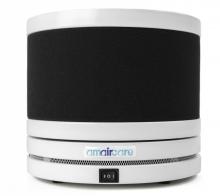 Last but certainly not least among the air purifiers you may want to consider putting on your desk is the Amaircare Roomaid VOC. This air purifier measures just 7.5 inches high and 8.5 inches wide, but it still incorporates the great filtration technology Amaircare has come to be known for. Unlike the two units listed above, the Roomaid VOC uses both a HEPA and a carbon filter. As a result, this tiny yet powerful air purifier can target both solids and gases that negatively impact air quality in an office setting.
In addition, the Roomaid model features durable all-steel construction and an optional car adapter that allows it to be used in your vehicle.
Have questions about our best office desk air purifiers or how they can help to improve the quality of the air you breathe at work? We're here to help! Feel free to contact us for answers to your questions and personalized product recommendations based on your unique needs.