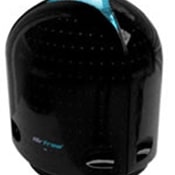 Selecting an air purifier for your home, apartment, or office is more involved than simply buying the first unit you see that will effectively cover the square footage of your space. Finding the best air purifier for your needs means taking several different factors into account. While these factors may vary, there are 4 primary ones that we at US Air Purifiers focus on when helping our customers to pick out the best unit for their needs. These 4 factors are budget, noise level, available space, and maintenance level. In this article, we'll take a look at how these factors influence the selection of an air purifier.
Budget
While it is true that many air purifiers can be quite pricey, there are always options that don't have to break the bank. If you don't have $500 or more to spend on an air purifier, that doesn't mean that you shouldn't be able to reap the benefits of cleaner air. For customers who are working on a limited budget, we have several different units available. Here are a few of our top recommendations:
Airfree Onix–Covers 650 square feet, filterless purification technology, ideal for mold, viruses, and bacteria. $299
Whirlpool AP51030K–Covers 500 square feet, HEPA filtration system, 99.97% efficiency to particles 0.3 microns in size. $299
Amaircare 1100–Covers 750 square feet, HEPA filtration, 360 degree air intake. $299
Of course, these are only a few of our budget friendly options. For a complete list of our air purifiers under $300, click here.
Noise Level
Another important factor in selecting an air purifier is how much noise you are okay with. For many people, silent air purifiers are the preferred option. Here are a few of our completely silent air purifiers:
Amaircare 3000–Covers 1700 square feet, HEPA filtration system, optional silent mode, all metal construction, and 5 year warranty. $699
Rabbit Air BioGS 2.0 SPA-625A–Covers 625 square feet, 4 stage filtration, great for particulates, ultra quiet. $399.95
Vortex Air Purifier Lamp–Covers 175 square feet, LED desk lamp with built in filterless air purification system. Great for offices, dorms, or bedrooms. $289.99
Available Space
Not everyone has enough floor space in their home to make a large air purifier practical or convenient. For people with minimal floor space, we recommend the Rabbit Air MinusA2 model of air purifier. The MinusA2 comes in both 700 and 815 square foot coverage options. The units are very quiet, and can be mounted to a wall to conserve valuable floor space.
Maintenance Level
Of course, the amount of maintenance that an air purifier requires is an important factor in picking out the best air purifier for your needs. One of the most popular lines of air purifiers that we offer are the Austin Air units. While these purifiers still have filters, they only need to be changed every 4-5 years, making them practically maintenance free. The Vortex lamp (listed above), as well as our Airfree line of air purifiers, take maintenance free air purification one step further by eliminating filters (and therefore filter changes) entirely.
Conclusion: Selecting the Best Air Purifier for You
As you can see, picking out the best air purifier for your needs is more than just buying the first unit that happens to catch your eye. There are many personal and individual factors that go into selecting the perfect air purification system. The units that we have touched on here are just a few examples of air purifiers designed to meet your needs, but they should give you some idea of what is available for your particular requirements.