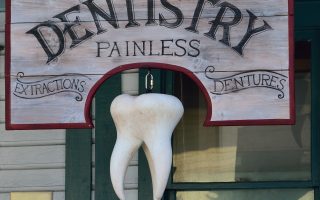 Over the last few years, we've seen an increase in interest in workplace air purifiers. The tricky part about picking the right unit, though, is that every profession has different air purification needs. This week, we're taking a look at air purifiers for dentists. Whether you're looking to buy a dental office air purifier for the first time or replacing an old, outdated unit, we'd like to help by offering some insights into the needs of dental offices from an air quality perspective. Here's what you need to know to buy your new dental air purifier.
Why Do Dentists Need Air Purifiers?
There are several reasons to use an air purifier in your dental office. First and foremost, working closely with patients' mouths exposes you to bacteria and viruses that can be transmitted through the air. This risk affects not only you and your staff, but other patients as well. Any patient you see in the course of a day could be spreading germs into your office air. If these pathogens linger in the air, other patients could be exposed later on.
In addition to germs, we also have to consider the materials used in dentistry. Chemicals used in the dental office can sometimes give off fumes, reducing the air quality. Dust is also a major problem, since the use of grinders to shape materials in the lab can produce hazardous particles.
These concerns are far from abstract for dentists and their assistants. According to a Labor Department analysis of 974 occupations, dentistry was rated number one in terms of workplace exposure to airborne contaminants. If you want to make your office a healthy space for your patients, your employees and yourself, therefore, investing in good air purification should be a top priority for your practice.
What Do We Recommend for Dental Air Purification?
To deal with the high levels of biological contaminants in dental settings, we recommend using high-quality HEPA and UV air purifiers for dentists. These air purifiers are excellent for capturing or neutralizing microorganisms. Below, you'll find a few of our top picks for dental office air purifiers.
BSE Aerosol HEPA Air Scrubber
The BSE Aerosol HEPA Air Scrubber is one of our top picks when it comes to air purifiers for dentists with short lead times. This air scrubber extraction system was designed specifically with dentists in mind and can be operated using a foot pedal while your hands are occupied. The flexible arm also makes it a good choice for a dental practice, since it can be positioned to capture contaminants from a single, specific source (i.e, the open mouth of a patient).
BSE A-1100
For extra protection, you may want to consider the BSE A-1100, a commercial air scrubber featuring HEPA filtration and needlepoint bipolar ionization technology. Needlepoint bipolar ionization produces ions that circulate in the airstream, allowing for a form of passive purification beyond just the filters. With HEPA and this ionization technology, the BSE A-1100 offers thorough cleaning.
Airpura P614, UV614 or I-600UV
If you're visited our blog before, you probably know that Airpura is among our most-recommended brands. If you're looking for a dental air purifier, we'd suggest the Airpura P614, Airpura UV614 or Airpura I-600UV models. Each of these units has excellent capabilities when it comes to removing harmful germs from the air. It's worth keeping in mind, though, that the lead times on these models may be a bit longer than the BSE brand options.
Amaircare 3000
The Amaircare 3000 is another purifier that we recommend frequently due to its capabilities and versatility. If you want a reliable, budget-friendly unit for your practice, the 3000 model is well worth checking out.
Field Controls TRIO
As a portable medical-grade unit, the Field Controls TRIO is a strong option as an air purifier for dentists. Its four-stage filtration system includes both HEPA and UV, as well as a carbon filter to remove chemical contaminants and VOCs.
Have more questions about picking out the right dental air purifier for your practice? We're here to help! Feel free to contact us for answers, up-to-date lead times and product recommendations based on your needs.