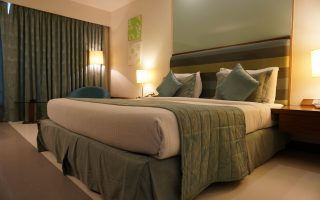 After two years of pandemic-related travel restrictions, many of us are ready to hit the road going into 2022. While the urge to get out and explore the world again is completely understandable, it's also important to take precautions to keep yourself and your family safe. One of the ways you can do this is by bringing a travel sized air purifier with you to use in hotel rooms, cabins or Airbnbs. Here are three of our top travel air purifiers that are small enough to fit into your luggage and come along with you on your next road trip.
Airfree T800
Part of Airfree's line of filterless air purifiers, the T800 is one of the smallest purifiers you'll find on the market today. At just 10.4 inches long and 5.1 inches in diameter, the T800 will easily fit in your car or even into your suitcase when you're traveling. This small air purifier will clean the air in spaces of up to 180 square feet. As a result, it's perfect for use in hotel rooms.
Aura Air Mini
The Aura Air Mini air purifier is a battery-powered unit that provides coverage for up to 107 square feet. The battery last 5-6 hours per charge and can be recharged in just 2 hours. Best of all, this tiny air purifier is small enough to fit easily into a bag or purse, making it a perfect air purifier for travel. The Aura Air mini combines a pre-filter with stereo ionization technology to target large particles, bacteria and viruses. While small, this air purifier provides protection against a wide range of common contaminants.
Amaircare Roomaid
Next and likely the best travel air purifier is the small yet powerful Amaircare Roomaid. This powerful combination HEPA and carbon filtered air purifier covers up to 300 square feet of space. It also has a 360-degree intake for maximum airflow. Despite its capacity, the Roomaid is still quite small, coming in at 7.5 inches by 8.5 inches and weighing just 5 pounds. If you need a powerful air purifier to take with you on the road, the Roomaid is likely your best option.
SPT 3000i
Finally, the Sunpentown 3000i rounds out our list of travel air purifiers. Like the Roomaid, this air purifier provides both carbon and HEPA filtration, making it a good all-purpose air purifier for small spaces. It does have somewhat lower capacity, though, as it is only rated for spaces of up to 180 square feet. The 3000i is a bit bigger at almost 15 inches high, but is still small enough to be easily packed into the car when you travel.
Traveling with a compact air purifier is one of many ways to make sure you stay safe and breathe higher-quality air on the road. Check out one of these three great models before your next trip!
Have questions about which air purifier is right for your needs? We're here to help! Feel free to contact us with your questions, and we'll be happy to provide you with answers and personalized product recommendations.