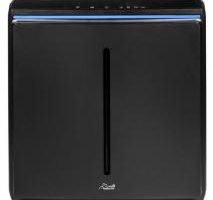 Recently, we announced that the popular Rabbit Air Minus A2 series of air purifiers would be phasing out. Today, we're happy to introduce the replacement series, the Rabbit Air A3. This new series of air purifiers offers many of the same great features as the old A2 series but also includes some substantial upgrades. Here's what you need to know about the Rabbit Air A3 and its capabilities.
Rabbit Air A3 Basic Specs
The Rabbit Air A3 SPA-1000N is rated for spaces of up to 1,070 square feet, in which it can perform two air changes per hour. This air purifier can be used as a freestanding unit, but it can also be mounted to the wall for use in rooms with limited open floor space. This purifier uses a brushless motor to minimize background noise from the fan. At the lowest setting, the unit is virtually silent.
The A3 features 6 independent stages of filtration. Most important among these is the BioGS HEPA filter, which removes 99.97 percent of solid contaminants 0.3 microns or larger in diameter. A medium pre-filter captures larger particles before air passes through the HEPA filter. An activated charcoal filter provides protection from odors, VOCs and other gases. Together, this filtration system provides comprehensive coverage against most common household contaminants.
In addition, you can select one custom filter, depending on the type of contaminants you most want to target. The germ defense filter targets bacteria, viruses and mold spores. The pet allergy filter addresses dander and pet hair that can cause allergic reactions. The toxin absorber filter removes VOCs and other chemical gases. The odor filter reduces airborne odors, including cigarette smoke and cooking fumes.
For improved air flow, the A3 uses a 360-degree air intake. The outlet for the air is at the back of the air purifier and is directed upward into the surrounding room. This allows for efficient air flow and circulation.
Rabbit Air A3 Smart Features
In addition to its basic filtration capabilities, the Rabbit Air A3 also features onboard air quality sensors that allow it to detect the level of contaminants in the air around it. Using this data, the purifier can automatically adjust its speed to provide higher air quality when needed.
These features also allow the purifier to essentially double as an indoor air quality monitor. Through the unit's wireless internet connectivity and the Rabbit Air App, you can see real-time data on the air quality in your house anytime, anywhere. This app also allows you to easily adjust air purifier settings as necessary from your smartphone.
Filter Life and Warranty
When used 24 hours a day, Rabbit Air recommends changing the filters on the A3 once a year. The unit also comes with a 5-year manufacturer's warranty and Rabbit Air's 24/7 tech support assistance.
As you can see, the Rabbit Air A3 is a versatile and powerful air purifier that can help you keep the air in your home clean and healthy. For more details, check out the Rabbit Air A3 product page on our website. Have questions? We're here to help! Feel free to contact us for answers and personalized product recommendations based on your needs.