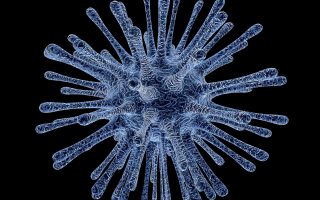 With the Wuhan coronavirus spreading rapidly in China and cases reported in both the US and Canada, we've had many questions about whether or not air purifiers can provide any kind of protection. Fortunately, we recently gained some insights into what kind of air purification Canadian health specialists are using in centers for those who may have been exposed to the Wuhan virus. Here's what you should know about the purifier being used, why it works and what other units may help to protect you from this aggressive respiratory virus.
Amaircare Airwash: Canada's Choice for Protection
While it isn't always easy to know what units national health officials are using for specific purposes, we do know that the Amaircare Airwash model has been chosen by the Canadian government for processing and quarantine of evacuees from the Wuhan area. A clip captured by Global News Canada at the CFB Trenton processing center showed this air purifier set up. You can see that clip and learn more about the precautions being taken by Canada's leading health authorities by following this link.
Can HEPA Filters Capture Airborne Viruses?
While a HEPA filter may not be the first thing that comes to mind for virus protection, the use of a high-quality HEPA unit like the Amaircare Airwash can be an effective tool in keeping viruses at bay. Although viruses are smaller than the holes in HEPA filter medium, studies have shown that even such tiny particles are captured by HEPA filters in a large majority of cases. This is the result of a phenomenon known as diffusion, in which extremely tiny particles passing through a filter can collide with the filter medium, rather than being passed through with the prevailing airflow.
It should be noted that the diffusion effect is not an absolute guarantee that an air filter will capture all particles as small as viruses. What it does mean, though, is that a HEPA air purifier can provide a measure of protection against viruses. If you're looking for a way to keep your home safer from the spread of viral pathogens during the current coronavirus outbreak, using a high-quality HEPA purifier is one of the steps you can take to reduce your chances of exposure.
What Does the Amaircare Airwash Have to Offer?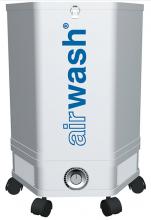 With a total of 100 square feet of filter material that is 95 percent efficient for removing particles as small as 0.1 microns, the Amaircare Airwash is a top-quality HEPA air purifier. This unit also includes a carbon canister for filtering out gases, odors and VOCs, making it a great air purifier for overall protection.
It should also be noted that the same high-quality HEPA filter and perfect-seal technology employed in the Airwash model are also used in the rest of Amaircare's full-size air purifier line. Other units with these features include the popular Amaircare 3000 and Airwash BOSS models.
Other Units for Germ Protection
While the Amaircare Airwash stands out as a great option for dealing with the current viral threat, there are other units we recommend for protection from viruses and bacteria. Typically, these are units that feature UV germicidal lamps, as ultraviolet light is capable of neutralizing pathogens by disrupting their DNA.
Other units we recommend for germ protection include:
Still have questions about how a high-quality air purifier may be able to help reduce your risk of exposure to coronavirus? We're here to help! Feel free to contact us with your questions and we'll be happy to provide you with answers and product recommendations based on your needs.