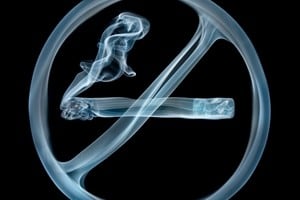 According to the U.S. Centers for Disease Control and Prevention (CDC), there are 7.1 million children in the United States who suffer from asthma, a chronic respiratory disease that kills thousands of people each year. Over the years, researchers have worked to figure out the cause of asthma and determine what kind of environmental factors contribute to a worsening of symptoms.
For some time now, they have warned adults of the negative effect that secondhand smoke has on children with the chronic respiratory disease. However, new research published in Academic Pediatrics, a medical journal, suggests that there is still a large number of adults who are smoking around kids.
Reuters reports that about half of children between the ages of six and 19 were exposed to secondhand smoke from 2003 to 2010, and notes that this has caused notable discomfort among those who have been diagnosed with asthma.
"Even low level exposure — the kind of exposure that might happen with a parent who smokes outside — can have negative consequences," said Dr. Karen Wilson of the Children's Hospital Colorado in Aurora. "Not smoking at all, and limiting exposure from other sources, such as neighboring apartments, is the best way to protect children with asthma."
There are steps that parents can take to improve their children's quality of life around the house. By installing bedroom air purifiers, for example, you can ensure that your son or daughter is breathing in clean air. Check out the Air Purifiers Direct 2U website today to learn more about these effective devices and purchase some for your home today.