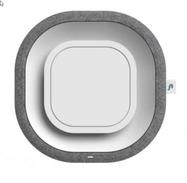 Like all other home appliances, air purifiers are gradually moving into the digital age. Smart features allow high-tech air purifiers to more effectively filter contaminants from your home air. One of the latest high-tech air purifiers is the Aura Air Smart Air Purifier. Here's what you need to know about this innovative unit and how its cutting-edge features can help keep the air in your home cleaner.
Aura Air Smart Air Purifier Overview
The Aura Air Smart Air Purifier is a professional clean air solution for small to medium-sized spaces. This unit is recommended for spaces of up to 600 square feet. The purifier's onboard smart sensors detect particles, temperature, humidity and other data about indoor air quality. Using this data, the air purifier adjusts its setting to provide you with cleaner air at all times.
The Smart Air Purifier from Aura Air is a wall-mountable unit, making it a perfect solution for areas where space is at a premium. You can also choose from two optional stands. The shorter stand is meant for placing the air purifier on a desk or table and is 14.7 inches tall. The taller option is 35.1 inches high and allows you to elevate the air purifier above the floor.
Despite being quite small, this air purifier moves a considerable amount of air. In spaces up to the 600 square foot recommended maximum, the Smart Air Purifier can perform up to 2.5 air changes each hour.
Filtration
The Aura Air Smart Air Purifier includes four separate stages of filtration. The first is a prefilter that catches large particles like dust, hair and pollen. Next is Aura Air's specialized Ray HEPA filter that targets fine particles, bacteria, odors, viruses and mold spores. Third is a UV-C lamp to neutralize bacteria and viruses that slip through the HEPA filter. Finally, the purifier includes an ionizer that balances positive and negative ions for fresher air and to target airborne germs.
Optional Enterprise Dashboard Software
In addition to the standard app, you can also upgrade to Aura Air's Dashboard software when using the Smart Air Purifier. This software allows you to manage multiple units from a single, simple dashboard. This makes it a natural choice for schools and businesses that may want to use several Smart Air Purifiers within a large facility.
The Enterprise Dashboard is also good for individual consumers who want deeper insights into their home air quality. This system monitors fine particulate matter, tVOCs, CO2 and other pieces of air quality data. With it, you'll gain more information about the quality of the air in your home and what factors could be affecting it.
If you choose to add on the software dashboard, you'll need one software package for every Smart Air Purifier you're using. However, all of the units can be easily managed from a single dashboard, saving you the trouble of switching back and forth.
Whether you're trying to clean up the air in your home or provide higher air quality to employees at your business, the Aura Air Smart Air Purifier is a great solution. This air purifier uses cutting-edge technology to make sure the air you breathe is clean and healthy.
Have more questions about the Smart Air Purifier? We're here to help! Feel free to contact us with your questions, and we'll be happy to provide you with answers and product recommendations based on your unique needs.