Electrocorp
Electrocorp RSU 48 CC Industrial Air Scrubber
Zoom In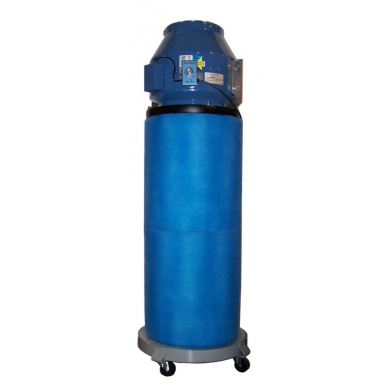 Free Shipping
Electrocorp RSU 48 CC air purifier is an excellent industrial air purifier for acrylic lasers, medical marijuana dispensaries, evidence rooms, forensic labs, morgues etc. Most popular sizes are 20CC, 24CC, and 48CC. It purifies many dangerous airborne contaminants like microorganisms, biohazards, chemicals, gases, odors, particles, aspergillus mold spores and narcotics fumes. Optional upgrade: UV lamp
Product Description
RSU Series by Electrocorp is an excellent industrial air purifier for acrylic lasers, evidence rooms, forensic labs, morgues etc. Most popular sizes are 20CC, 24CC, and 48CC. It purifies many dangerous airborne contaminants like microorganisms, biohazards, chemicals, gases, odors, particles, aspergillus mold spores and narcotics fumes. Optional upgrade: UV lamp
The CC stands for Carbon Canister. Other configurations such as HEPA are available for your needs.
Activated Carbon:
48 CC = 120 lbs of Activated Carbon (shown)

These quality air purifiers are also excellent options for Evidence Rooms, Morgues & Funeral Homes, and Hospitals too.
The RSU series reduces odors quickly and is very versatile.
Electrocorp's Radial Scrub Unit (RSU) series represents one of the most versatile and effective series in the company's diverse lineup of industrial-strength air purifiers.

The units are available in many different sizes and feature a deep-bed activated carbon filter for the removal of chemicals, gases and odors as well as an electrostatic particle filter.

The powerful HEPA + carbon combination gives these air purification systems an extensive adsorbent area, allowing them to capture odor-causing pollutants more quickly than other units.

They can accommodate between 18 and 360 pounds of activated carbon and can be customized even more with regards to the filter media and carbon blends.

User Friendly and impressive air purification solution

The RSU units are portable, free-standing, plug-and-go air purifiers with a round design for maximum efficiency. Users can easily change the air flow according to preference.

The main body of the air purifier is covered by a wrap-around pre-filter to capture larger particles and allow for large-volume air intake. The RSU will clean the air and then recirculate it in the room.

The overall design and capabilities of the RSU Series makes these units the best choice for clients who need fast and effective chemical and odor relief.
Specifications
Specs RSU 48:
Free Flowing CFM: 1000 CFM
Delivered CFM: 300-675 CFM
120 lbs of carbon at 2.5 in deep
Variable speed
360 degree intake
Optional upgrade: UV lamp
Recommended for
Industries that benefit from RSU units include:
Homeowners and businesses who want chemical and odor control
Laser engraving and cutting
Printing and graphics
Museums and art galleries
Art restoration
Government / public institutions
Renovation and construction
Funeral homes and embalming
Food processing industry
Chemicals and manufacturing
Smoke and smog relief
Any commercial or industrial setting where odors, chemicals or gases are an issue
Filter Maintenance Info
RSU 20 CC (Shown)
RSU 20 Carbon Filter - 1 is required: R3FC0520 $477.98 (change every 12-18 months or as needed)
RSU 20 Micro-HEPA - 1 is required: 3pack R3FMR2053-3 $144.98 (change every 2 years or as needed)
RSU 20 Pre-Filter 1 is required: 6 pack R3FMPF2056-6 $205.98 (Change every 6 months or as needed)
Total Price: $828.94
RSU 24 CC
RSU 24/48 Carbon Filter [2 required] R2FC0512 $625.98 each (change every 12-18 months or as needed)
RSU 24 Micro-HEPA Filter - 1 package containing 6 where 1 is needed a filter change: R2FMR1258-6 $174.98 (change every 2 years or as needed)
RSU 24 Pre-Filter - 1 package containing 6 where 1 is needed per a filter change: R2FMPF2562-6 $228.98 (Change every 6 months or as needed)
Total Price: $1655.92
RSU 48 CC
RSU 48 Carbon Filter - 4 required: R2FC0512 $625.98 each (change every 12-18 months or as needed)
RSU 48 Micro-HEPA Filter - 1 package containing 12 where 2 are needed per a filter change: R2FMR1258-12 $345.98 (change every 2 years or as needed)
RSU 48 Pre-Filter - 1 package containing 12 where 2 are needed per a filter change: R2FMPF2562-12 $457.98 (Change every 6 months or as needed)
Total Price: $3307.88
More Info
Q&A