Electrocorp RSU 20 CC Industrial Air Scrubber
Part Number:
elc-ap-us1103
Zoom In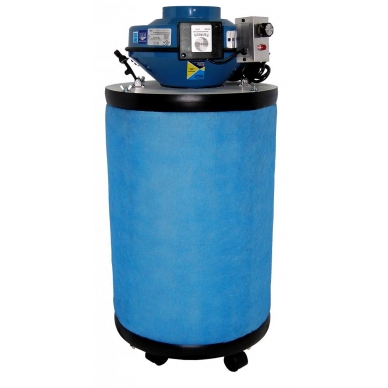 Free Shipping
Electrocorp RSU 20 CC air purifier is an excellent industrial air purifier for acrylic lasers, medical marijuana dispensaries, evidence rooms, forensic labs, morgues etc. Most popular sizes are 20CC, 24CC, and 48CC. It purifies many dangerous airborne contaminants like microorganisms, biohazards, chemicals, gases, odors, particles, aspergillus mold spores and narcotics fumes. Optional upgrade: UV lamp
Product Description
RSU Series by Electrocorp is an excellent industrial air purifier for acrylic lasers, evidence rooms, forensic labs, morgues etc. Most popular sizes are 20CC, 24CC, and 48CC. It purifies many dangerous airborne contaminants like microorganisms, biohazards, chemicals, gases, odors, particles, aspergillus mold spores and narcotics fumes.
The CC stands for Carbon Canister. Other configurations such as HEPA are available for your needs.
Activated Carbon:
20 CC = 34 lbs of Activated Carbon (shown)

These quality air purifiers are also excellent options for Evidence Rooms, Morgues & Funeral Homes, and Hospitals too.
The RSU series reduces odors quickly and is very versatile.
Electrocorp's Radial Scrub Unit (RSU) series represents one of the most versatile and effective series in the company's diverse lineup of industrial-strength air purifiers.

The units are available in many different sizes and feature a deep-bed activated carbon filter for the removal of chemicals, gases and odors as well as an electrostatic particle filter.

The powerful HEPA + carbon combination gives these air purification systems an extensive adsorbent area, allowing them to capture odor-causing pollutants more quickly than other units.

They can accommodate between 18 and 360 pounds of activated carbon and can be customized even more with regards to the filter media and carbon blends.

User Friendly and impressive air purification solution

The RSU units are portable, free-standing, plug-and-go air purifiers with a round design for maximum efficiency. Users can easily change the air flow according to preference.

The main body of the air purifier is covered by a wrap-around pre-filter to capture larger particles and allow for large-volume air intake. The RSU will clean the air and then recirculate it in the room.

The overall design and capabilities of the RSU Series makes these units the best choice for clients who need fast and effective chemical and odor relief.
Specifications
Specs RSU 20:
200-450 CFM (Free Flowing)
30 lbs of carbon at 2.5 in deep
Variable speed
360 degree intake
Optional upgrade: UV lamp
Finding the right air purifier or air scrubber system for heavy duty industrial or commercial applications can be tough sometimes. You want an air cleaner that is well made, cleans the air effectively, offers a variety of options, and one that's affordable, if at all possible. The RSU 20 CC Portable Industrial Air Cleaner, one of the Electrocorp's most powerful, compact industrial air purifiers provides superior portable air cleaning and useful options--at an affordable price.

The RSU 20 CC measures only 31" tall by 18" in diameter so it won't get in the way. This unit also comes with 30 pounds of the best quality, highest rated activated carbon in the world, a powerful variable output and multiple options to make this unit work perfectly for almost any application where fumes, gases, or particles need to be collected and removed---including some of the toughest commercial construction sites, job sites and many other applications, to include:

Laser Engraving – Law Enforcement – Veterinary Offices & Kennels – Fitness Centers – Funeral Homes & Embalming – Museums – Dental Labs – Chemical Engineering – Welding – Soldering -- and many more!

Best Quality, Long Lasting Carbon Filters

The RSU 20 CC portable industrial air purifier comes with 30 pounds of super-powerful industrial strength VOCARB carbon—a type of carbon that is stronger than any other activated charcoal for removing a wider range of VOC's, vapors, gases, smoke, odors and chemicals like benzene, formaldehyde, TCE, hydrogen sulfide and about 150 others commonly found in many industrial, commercial, and other businesses. The filters often last 3-5 years, too--not 3-5 months like many other fume extractors and can be refilled with money-saving bulk Vocarb carbon! This feature alone can save you thousands of dollars in replacement filter costs over the life of the air purifier.

Extra Strength Variable Output / Suction

The Electrocorp RSU 20 is a very effective air scrubber with an output range from 200 CFM to 450 CFM, which is strong enough to quickly collect and capture 99% of all pollutants in minutes and keep the air in your workshop or other confined room or space clean. Speed isn't always the most desireable thing with fume extractors and this unit can operate at a slower rate which gives polluted air more time in contact with the carbon for enhanced air cleaning when extra tough chemical vapors are present. At the same time, if you need more output for clearing out larger spaces, you can turn it up, or the motor can also be upgraded to deliver up to 1800 CFM, if desired!

Multiple Air Filtration Options

The RSU 20 can either be used as a compact industrial fume extractor, or a combination fume extractor / dust collection unit, depending on the pollutants you have and which filter combination you choose. For fume, gas, smoke, odor & particle removal, choose the CC model - carbon filters and micro-HEPA rated at 99% of particles to 0.1 microns. For effective removal of fumes, gases, dust, fibers & particles with a true medical grade HEPA filter (removes 99.97% of particles down to 0.3 microns), choose the CCH model. And if you need a source capture unit to suck up fumes, gases & particles at the source, just choose the CCR model with a reverse motor, attach your hose to the top and you're ready to go! If you have a special air cleaning situation, just let us know and we can customize the unit to work perfectly for your application!

Easy Portability

Since the RSU 20 is only 31" x 18", it's easily transported to other job or constructions sites, warehouses, shops, labs, or to another location if you move your business--or rolled around on its heavy duty industrial casters to wherever you need quick air filtration.
| | |
| --- | --- |
| Specifications | |
| Room Size | 150-350 sq ft, 8' ceiling |
| Filtration System | Industrial grade >10 micron pre-filter material, carbon filter wrapped with an electrostatically charged 0.1 micron 99% efficient particle filter. |
| Carbon Weight | 34 lbs |
| | |
| Electrostatic | Electrostatic Particle filter, material rated at 99% efficient at 0.1 microns, |
| CFM | 200-450 |
| Speed | Variable |
| UV Lamp | optional |
| Available Colors | Blue |
| Voltage | 115V/230V |
| Amps (115V/230V) | 1.3 / 0.65 |
| Cord Length | 8 ft |
| Noise Level | 50-75 dBA |
| Maneuverability | 5 x 2" diameter wheels |
| Filter Access | Top |
| Motor Details | Motorized Impeller in housing |
| Dimensions | 31 x 18 Ins. (Height x Diameter) |
| Shipping Weight | Approx 95 lbs |
| Operating Weight | 80 lbs |
| Number of Units Per Pallet | Varies |
| CSA/UL Listed | Motor and Electrical Components |
| Overload Protection | Yes |
| Pressure Guage / Light Indicator | No |
| Energy Star motor / blower / fan | Yes Part # FX8XL |
Recommended for
Industries that benefit from RSU units include:
Homeowners and businesses who want chemical and odor control
Laser engraving and cutting
Printing and graphics
Museums and art galleries
Art restoration
Government / public institutions
Renovation and construction
Funeral homes and embalming
Food processing industry
Chemicals and manufacturing
Smoke and smog relief
Any commercial or industrial setting where odors, chemicals or gases are an issue
Filter Maintenance Info
RSU 20 CC (Shown)
RSU 20 Carbon Filter - 1 is required: R3FC0520 $477.98 (change every 1-4 years or as needed)
RSU 20 Micro-HEPA - 1 is required: 3pack R3FMR2053-3 $144.98 (change every 2-5 years or as needed)
RSU 20 Pre-Filter 1 is required: 6 pack R3FMPF2056-6 $205.98 (Change every 6 months or as needed)
Total Price: $828.94
RSU 24 CC
RSU 24/48 Carbon Filter [2 required] R2FC0512 $625.98 each (change every 3-5 years or as needed)
RSU 24 Micro-HEPA Filter - 1 package containing 6 where 1 is needed a filter change: R2FMR1258-6 $174.98 (change every 2-5 years or as needed)
RSU 24 Pre-Filter - 1 package containing 6 where 1 is needed per a filter change: R2FMPF2562-6 $228.98 (Change every 6 months or as needed)
Total Price: $1655.92
RSU 48 CC
RSU 48 Carbon Filter - 4 required: R2FC0512 $625.98 each (change every 4-6 years or as needed)
RSU 48 Micro-HEPA Filter - 1 package containing 12 where 2 are needed per a filter change: R2FMR1258-12 $345.98 (change every 2-5 years or as needed)
RSU 48 Pre-Filter - 1 package containing 12 where 2 are needed per a filter change: R2FMPF2562-12 $457.98 (Change every 6 months or as needed)
Total Price: $3307.88