Electrocorp
Electrocorp LD450 Fume Extractor w/ Arm
Zoom In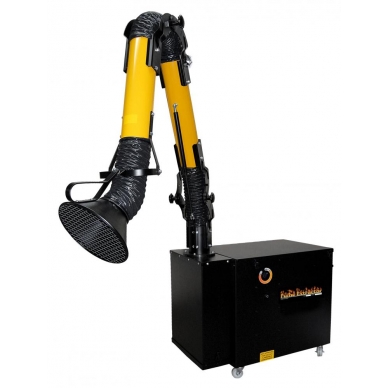 Free Shipping
LD450, the most popular fume extractor by Electrocorp, is an excellent industrial air purifier for welders, solders, and laser engravers. Electrocorp light duty fume extractors offer a high draw solution to welding smoke and fumes. Our portable fume extractors feature at-the-source protection removing airborne chemicals, vapors, fumes and smoke directly from the workstation
Product Description
LD450 by Electrocorp is an excellent industrial air purifier for welders, solders, and laser engravers.
Industrial Air Filtration for Welding
Electrocorp light duty fume extractors offer a high draw solution to welding smoke and fumes. Our portable fume extractors feature at-the-source protection removing airborne chemicals, vapors, fumes and smoke directly from the workstation. Units feature 2" HEPA fume filters that capture airborne smoke particles and a 40 lb. deep bed activated carbon filter for chemicals, gases and smoke odor. Ideal for MIG, TIG, arc and robotic welding.
Industrial-strength - light duty welding smoke extractor
· TIG and arc welding operators
· Soldering
· Light manufacturing
· Light plastic welding

Eco-Friendly Features
- Metal Housing
- Ozone-free
- Energy efficient
- Refillable carbon canisters
- North American parts and materials
- North American assembly

Technical Specifications
- Carbon Filter 40 lbs., 10.5" depth
- Filtration 2" HEPA
- System 2" Pre-filter
- SFM 250
- Dimensions 22.5" x 16" x 29"
- Options Custom carbon blend
- LD450 Fume Extractor
Specifications
Technical Specifications:
| | |
| --- | --- |
| Room Size | NA |
| Filtration System | 40 lb. carbon filter 10.5 Ins. depth, 2 Ins. medical-grade HEPA rated at 95% efficient, 2 Ins. re-filter. |
| Carbon Weight | 40 lb. carbon filter 10.5 Ins. depth |
| HEPA | Medical-grade pleated HEPA filter rated at 95% efficient at 0.3 microns |
| Surface Area of HEPA media | 7405.125 sq in |
| Micro HEPA | NA |
| CFM | 250-480 Delivered |
| Speed | Variable |
| UV Lamp | NA |
| Available Colors | Black with yellow arm |
| Voltage | 120V |
| Amps | 1.76 / 0.88 |
| Cord Length | 8 ft |
| Noise Level | 55-75dBA |
| Maneuverability | Lightweight, portable, on wheels |
| Filter Access | Top |
| Motor Details | Motorized Impeller |
| Dimensions | 29 x 16 x 22.5 Ins. (L x W x H) |
| Shipping Weight | Approx 185 lbs |
| Operating Weight | 140 lbs |
| Number of Units on a Pallet | 1--(3 boxes @ L 40 x W 48 x H 46 Ins/ Plt) |
| CSA/UL Listed | Motor and Electrical Components |
Closer Look
An Effective Fume & Gas Collection System for Welding, Soldering, & Much More!
It's no secret that welding, soldering, laser engraving and other processes that produce harmful chemical fumes and gases must have some type of good vapor collection system to maintain good health for the operators and everyone else in the area—and to help the business owner avoid OSHA fines.

Lots of industries & processes other than welding and soldering also require fume extraction to maintain indoor air quality & work safety, as well—research labs, workshops, morgues, art restoration, law enforcement, landfills, and more. Industrial-strength fume extractors are often fairly expensive, large, & bulky, however, and many of them are bolted down to where you can't move them to other work stations or work sites as needed. Also, having a fume or gas collection system that is stationary or bolted down can create a lot of extra work, as well, should you need to relocate your business, change shops or buildings, etc. And, most fume extractors, other than the most expensive units, only provide fume extraction, not particle removal.

The LD

450

Portable Industrial Fume Extractor solves all of these problems and provides a top-notch portable fume, gas, and particle removal—at an affordable price. The LD

450

's industrial-grade air filtration system combines 40 pounds of specially activated Vocarb carbon to capture even the toughest chemical fumes, gases, & vapors, such as benzene, mercury vapor, formaldehyde, hydrogen sulfide and more, with a 2" thick medical-grade HEPA filter to remove 99.97% of particles down to 0.3 microns, and a 2" thick pre-filter to remove larger particles and extend the life of the HEPA and carbon filters. That's enough to handle virtually any welding, soldering, laser engraving or any other high pollutant concentration situation.

Vocarb carbon is known around the world as one of the strongest, best types of carbon filtration media for removing industrial-level welding & soldering fumes and gases due to its increased surface area and 'super-activation' process. And if you have specific chemical compounds, gases or fumes that need to be extracted, Electrocorp can even custom 'tune' the carbon to capture those pollutants!
QUICK FACTS:
40 lb. carbon filter, 10" Depth

2" HEPA filter to remove 99.97% of particles down to 0.3 microns

2" pre-filter

Includes 7.5\' Arm

Spark arrestor filter

Dimensions: 22.5" x 16" x 29"

250 CFM (square feet per minute) output
All of this fume & particle extraction power is built into a solid steel frame, with a heavy-duty movable arm for precise positioning to remove fumes at the source, and sits atop four heavy-duty commercial-grade 3" rubber wheels for easy movement to other rooms, stations or work sites.

And, since the LD

450

is portable, many business owners are purchasing a couple more of these units and renting them out as an extra source of revenue! Fume & gas extraction AND a new source of revenue.
Maintenance Info
LD450:
| | | |
| --- | --- | --- |
| LD450 Vocarb | CMFC2312 | $659.98 |
| LD450 HEPA | CMFH0411 | $184.98 |
| LD450 Prefilter 6 pack | CMFH1412-6 | $149.98 |
| LD450 Prefilter 12 pack | CMFH1412-12 | $290.98 |
| LD450 Tar-Trap filter 6 pack | CMFH0417-6 | $179.98 |
| LD450 Tar-Trap filter 12 pack | CMFH0417-12 | $217.98 |
| LD450 Spark Arrester | CMFC1416 | $337.98 |
Q&A