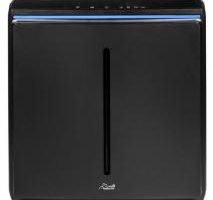 Rabbit Air has always been one of our favorite brands here at US Air Purifiers. That's why we're pleased to announce a new addition to our lineup of Rabbit models. The Rabbit Air A3 SPA-1000N is an ultra quiet HEPA air purifier with smart features that allow it to adapt to the air conditions in your home. Here's what you should know about the Rabbit Air A3 model.
Rabbit Air A3 SPA-1000N Overview and Specs
This air purifier is made specifically to target particles in the air with true-HEPA filtration. It is rated for 99.97 percent efficiency in removing particles larger than 0.3 microns. It also handles even smaller particles well, as it removes particles larger than 0.1 micron at 99 percent efficiency. As a result, this purifier is a great option for keeping your air free of harmful particulates.
The A3 model is also designed to deliver maximum airflow while remaining extremely quiet. This air purifier uses direct current brushless motors, which operate at very low noise levels. These motors, combined with a 360-degree air intake, allow the air purifier to perform two full air changes per hour in spaces of up to 1,070 square feet.
Smart Features
Perhaps the most impressive aspect of this air purifier is its use of smart sensors to adjust speed settings based on conditions. The A3 includes particle and odor sensors that allow it to measure the quality of the air around it. When air quality is lower, the unit will automatically switch to a higher fan speed to maintain the highest possible air quality. This way, you never have to worry about setting your air purifier manually.
A similar system also controls the amount of light the air purifier puts out. When the unit's light sensors detect low levels of light, it will automatically dim its onboard light. This is especially good if you're using the air purifier in your bedroom, since you won't have to deal with light pollution keeping you awake.
In addition to its sensors, the A3 includes wireless connectivity that lets you easily control it from anywhere using the Rabbit Air app. Even better, you can measure your air quality easily using the data from the purifier's sensors. In effect, this makes the A3 double as a basic indoor air quality monitor.
Rabbit Air A3 Price
The Rabbit Air A3 starts at just $749.95. Depending on the color you select, the air purifier can cost up to $769.96. Considering its large coverage area, filtering capabilities and use of smart sensors, the A3 is a very strong value.
Have more questions about the Rabbit A3 or any of our other home air purifiers? We're here to help! Feel free to contact us, and we'll be happy to provide you with answering and personalized product recommendations based on your needs.