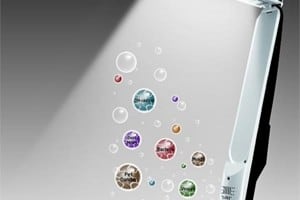 With the holidays right around the corner, it's a good idea to start thinking about what you're going to buy for everyone on your gift list. If you know someone who works in a cubicle, lives in a small college dorm or spends a lot of time in a home office, you may want to consider giving them the Vortex LED Desk Lamp with SPI Air Purifier, which you can find for just $299 at Air Purifiers Direct 2U.
"[The] Vortex LED Desk Lamp with Built-In Filterless Samsung SPI Air Purifier illuminates your reading, while purifying the air around you," states the Air Purifiers Direct 2U website. "The energy and cost saving light has three dimming levels, and is perfect for reading, relaxing and bedtime modes. Also, the air purifier eliminates dust mites, cat/dog allergens, viruses, bacteria, molds and even MRSA with coverage up to 175 square feet."
This gift would be especially perfect for someone who suffers from asthma or allergies, as these afflictions can make it difficult for them to complete normal everyday tasks that are easy for everyone else.
If you're interested in finding out more about this specific product, you can learn more here.
As you prepare for the holiday season, don't forget to browse the Air Purifiers Direct 2U website for additional gift ideas. Or, if you yourself deal with asthma or allergies, you may want to put one of our custom air purifiers on your holiday wish list. All orders include free shipping, and our customer service representatives are happy to assist you if you have any questions.