Amaircare
Amaircare 10000 Heavy Duty Air Filtration System For Heavy VOCs
Model:
18-A-1KME-00-hvy-voc
Ozone Free:
Certified UL 867 / UL 2998
Zoom In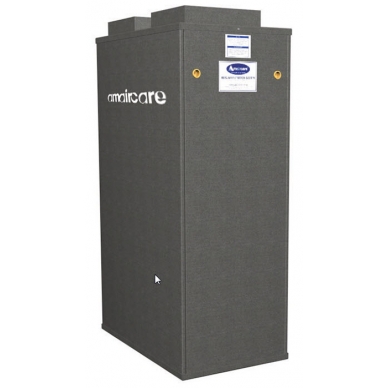 Ozone Free
Free Shipping
Leadtime estimated at 1-3 weeks.
Amaircare 10000 Heavy Duty Air Filtration System For Heavy VOCs is a high-quality air purification unit featuring:
Tri-filter design allows for significant airflow.
Three individual filter sets each containing a prefilter and an Ultra carbon canister which are 30 lbs of carbon each.
Easy to access filters through a removable end-panel door
Optional alternative configurations available just by changing the filter sets
Product Description
Complete Delivery
Uses existing duct network in your home to deliver clean air to every room.
CFM:
1000 CFM measured on the 10000 with the HEPA configuration
Decibels
0 ft: Hi – 96.1, Med – 91.8, Low- 82.2

6 ft: Hi – 69.8, Med – 66.2, Low – 60.5

12 ft: Hi – 68.6, Med – 64.3, Low – 59.4
Bypass Installation
Mounts on the return air portion of the air handling system and does not impact the HVAC system or endanger the HVAC warranty.
Top Inflow/Outflow Connection
Bypass ducting is easily accessible on the top of the unit also allowing for compact placement alongside the air handling system.
Interior Filters
Three individual filter sets each containing a prefilter and Ultra carbon canister.
Triple Perfect Seal 3 Stage Filtration
Three sets of filters capture large particulate and VOCs with the first stage foam prefilter and chemical/gas pollution are adsorbed by the 2nd stage Ultra carbon VOC filter (Each Ultra is 30 lbs of Carbon).
The configuration in this unit contains 3 filter sets each with a prefilter and an ULTRA Carbon Canister. No HEPA filters are in this configuration.
10000 for Heavy VOCs (Shown)
Easy Access

Filters are convenient to access and change.
Variable Speed Control
Change the air flow rate of the system to suit your needs and levels of contaminants in your environment.
High Efficiency AC Backward Curved Motor
High performance air flow at a low running cost, minimal drain on electricity resources with years of continuous performance.
Steel Construction, Baked Thermoset Powder Finish
Durable long lasting housing that doesn't off-gas chemicals, true to the integrity of providing clean air.
Ultra VOC Filter
Radically increases the capacity for capturing chemical and gas pollution.
Panel Access
Front panel conveniently removes for easy filter maintenance.
Specifications
Tri-HEPA Air Filtration System

Estimated FILTER LIFE dependent on contaminant levels and the filter configuration:

Configuration 1: Heavy particulates and Low VOCs

Stage 1:Carbon Prefilter 3-6 months
Stage 2:HEPA filter: 2-5 years
Stage 3:V.O.C. Blanket: 6-12 months

Configuration 2: Heavy particulates and Moderate VOCs


Stage 1:Carbon Prefilter 3-6 months
Stage 2:HEPA filter: 2-5 years
Stage 3:V.O.C. 7 lb Canister: 12 months

Configuration 3 (shown): Heavy VOCs and Low Particulates


Stage 1:Washable Foam Prefilter 3-12 months
Stage 3:V.O.C. 30 lb Canister: 12 months
This configuration has NO HEPA filtration
DIMENSIONS: 17.25" W 28"L 50"H
HEPA SURFACE AREA: 300 sq. ft.
INTAKE: 10"X12" duct fitting (Rectangular Connections)
OUTFLOW: 10"X12" duct fitting (Rectangular Connections)
WEIGHT: 130 lbs. (Full carbon for Heavy VOCs as shown would be estimated at 210 lbs)
DELIVERED AIR FLOW (C.F.M.): 700-1000
POWER CONSUMPTION: 600 Watt
Variable Speed Switch: Yes
DB Rating: @ 6 ft: 60-70dB
Construction: 18 Gauge Steel Housing
Durable Powder Coated Finish:

Many air filters and purifiers available today are made from plastic and contain adhesives or finishes that release VOCs. Amaircare systems are constructed out of steel, powder coated and contain NO harmful adhesives to ensure that the systems only reduce indoor air pollution and not add to it. The ALL steel construction also makes the systems durable for many years of reliable healthier air.
Perfect Seal Technology to ensure tightest seals.

Simply using HEPA media in an air filter doesn't make it a HEPA filter. If the HEPA media is not sealed properly, tiny harmful particles can sneak through. Amaircare manufactures its own Amaircare brand of HEPA filters.
The filter media comes off a roll and is pleated for optimal surface area. After the pleating process, the filters are enclosed in protective screens and cast in food-grade compound at both ends for a 100% air-proof seal.

Each filter is then tested with a laser particle counter for efficiency.
Amaircare Filters maintain HEPA efficiency during operation in the Amaircare Air filtration systems because of a Perfect Seal Design is used to lock the filter within the system.
All dirty air is forced through the filter and only clean air is released back into the room
Modular Filters: Each Stage of Filtration inside Amaircare systems can be replaced independently of the other stages to provide maximum performance and value from each filter.
VOC Removal and Stages of Filtration:

Configuration Options for Added VOC Protection: A very important element of Amaircare's filtering system is the carbon stage of filtration. Configuration 1 offers the carbon blanket. Configuration 2 offers a 7 lb carbon canister. Configuration 3 offers replacing the HEPA and using a full 30 lb Carbon Canister.
The Carbon adsorbs VOCs (Volatile Organic Compounds or organic chemical compounds int he gaseous phase. This category of pollution is a growing concern. Not only of chemicals you may smell but also harmful ones you may not.
More and more of these substances in our environments in our environments release harmful VOCs, chemicals, gases, and odors that can cause people to experience chemical sensitivities.
Amaircare offers the VOC upgrades to capture extra VOCs.
The order is extremely important. Amaircare systems place the carbon last in the filtration process to ensure the VOC adsorption is maximized.
Video
Barb Lulay demonstrates the Easy Twist Filters and installing a VOC canister into a HEPA unit using an Amaircare 3000 unit.
Q&A