BetterAir
BetterAir Probiotic Large Spray 6.7 fl oz (pkg 2)
CARB Certified:
Approved for sale to California
Zoom In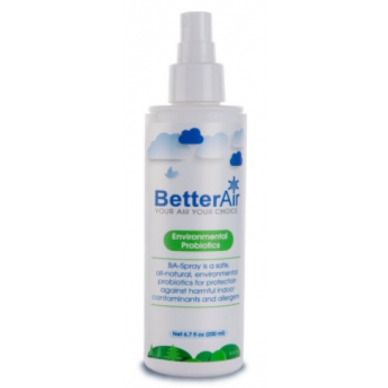 Carb
Free Shipping
Due to heavy orders from the Rachel Ray show, BetterAir is running around 2-3 weeks leadtime.
Now you can enjoy the revolutionary probiotic health benefits from BetterAir air, surface, and object purifier in a convenient spray bottle so you can be better protected everywhere you go. Excellent to even spray directly on your skin for healthier skin!
The ultimate on-the-go accessory for all day protection from indoor irritants such as pollen, dust mite waste and pet dander. Environmental Probiotics form a microflora and act as a natural shield on surfaces, shared objects and even yourself. Most germs are found on surfaces and objects so don't stop spraying! Usage and Benefits Creates a layer of microflora of beneficial probiotics to help your natural ability to protect against organic irritant.
Spray two to three pumps in the air and on shared objects such as keyboards, cellphones, yoga mats, door handles, airplane seat pockets, bathroom sinks, cutting boards and much more! Reduces musty and foul odors Natural, organic, chemical free and environmentally friendly