BA-1800 BetterAir Probiotic Air Purifier & Surface Purifier for HVAC
CARB Certified:
Approved for sale to California
The BetterAir BA-1800 Air Purifier & Surface Purifier covers 45,000 sq ft and is ideal commercial use. Featuring revolutionary new technology, this innovative air purifier uses probiotics to purify not only the air around it but also exposed surfaces and objects. Systematically dispensing high-quality probiotics into the air through the duct work, this HVAC air purifier enhances air quality. Virtually Silent too. Easy installation and simply replace cartridge monthly or as needed.
Product Description
The BetterAir BA-1800 Air Purifiers & Surface Purifier covers 45000 sq ft and is commercial use. Featuring revolutionary new technology, this innovative air purifier uses probiotics to purify not only the air around it but also exposed surfaces and objects. Systematically dispensing high-quality probiotics into the air, this air purifier enhances air quality by limiting the resources of common contaminants
This unit is also virtually silent
Highly effective in removing odors throughout the home. Custom pre-programming to fit your space and needs. Fast, simple and affordable installation.
By creating a microflora umbrella around us, the BetterAir purifiers and sprays offer a "protective bubble" that acts as a shield against harmful contaminants.
This high quality eco-balancing system offers numerous health benefits for an outstanding price:
Diminish bad odors & purify the air with continuous probiotic misting
Clean surfaces
100% safe, all-natural and environmentally friendly
Top Common Uses:
Hotels - Especially for odors
Doctor's offices and medical buildings
Older buildings - Focus on odors
HVAC Installers and Manufacturers - Healthier HVAC system and air in home
Air Duct cleaning - Ideal way to consistently purify the air ducts and the air within the home especially when air conditioning is used periodically if a natural, safe manner
Benefits
Automatic and continuous cleaning of air ducts and HVAC components

Includes up to 6 months supply of Environmental Probiotics- 1 bottle

Installation provided by accredited HVAC company

Reduces foul odors caused by microbial contamination such as mold and mildew

Consumes organic resources such as dust mite waste, pet dander, pollen and dead skin cells

Replenishes indoor spaces with beneficial probiotics to restore indoor ecological balance

Creates a protective shield on surfaces and inside shared objects to protect your personal space from irritants
Features
Custom Pre-programmed timer

Energy saving technology lowers energy consumption and costs

100% organic, chemical free and environmentally friendly
Specifications
ITEM BA 1800
Covers Up to 45,000 Sqft
Ideal for offices, larger homes, or commercial spaces
Easy HVAC installation
Maintenance: Simply change the cartridge monthly or as needed
Highly effective in removing odors caused by microbial contamination such as mold.
Custom pre-programming to fit your space and needs.
Fast, simple and affordable installation.
The Company:
Founded in 2010, BetterAir is the inventor and leader of the Indoor Bio-Security arena. BetterAir's Enviro-Biotics™ are Natural Environmental Probiotics that provide the only comprehensive solution that protects our indoor air, surfaces & objects.
A direct and immediate result of treating the indoor environment with Enviro-Biotics™ is an enhanced quality of life and wellbeing, achieved by a substantial reduction of microbial contaminations – bacterial, mold, allergens and more.
BetterAir is composed of natural organic beneficial bacteria (Probiotics) derived entirely from soil and plants. There are no chemicals or unnatural additives whatsoever.
Better Air provides a full range of Ecological Balancing Systems that caters from a small room to a large facility such as entire office buildings, hospitals, malls and health clubs.
The Solution is Better Air's Technology
Better Air's automated systems are designed to distribute a unique probiotic microscopic aerosolized compound that settles everywhere creating a protective layer of probiotic microscopic flora; the formation of "Inhibition zone," as defined by biologists which is a de facto "no entry zone," that do not let pathogens settle within the treated area.
In addition, the Enviro-Biotics™ microflora consume all organic resources that serve as sustenance for pathogenic bacterial and mold survival, hence cause their gradual disappearance. Enviro-Biotics™ are naturally amenable to its environment, where unlike reaction to chemical treatment and antibiotics, pathogens can not develop immunity against Enviro-Biotics™ and its effectiveness is consistent over very long durations.

The immediate benefits of incorporation of our Enviro-Biotics™ technologies include:
Dramatic reduction of allergens
Bio-Security: an overall decrease in pathogen survival
Elimination of bad odor generated by pathogenic bacteria, pet dander and mold activity.
Restoration of fresh air without masking smells with artificial, harmful perfumes.

Wherever Enviro-Biotics™ is administered, treated spaces become more balanced, safe, pleasant, and healthy for inhabitants
Everything listed here and in the web links are only a fraction of what this product does. It is 100% natural and organic, contains no chemicals whatsoever, and it is the only product of its kind that is totally safe for human or animal consumption. Be sure to click on the "Indoor Generation" and "Dust Mites" links as they are active and informative.
Additional Considerations:
The Problem
Over millions of years our bodies existed and thrived in an outdoor environment……But during the past hundred years or so we have spent increasingly more and more time indoors culminating in todays "Indoor Generation" where as much as 90% of our time is spent indoors. This sharp shift in our lifestyle has challenged our bodies immune systems and presented new threats to our health.
The normal outdoor ecological balance is comprised primarily of beneficial (probiotics) bacteria and with a minority of pathogenic (bad) bacteria. This good to bad bacteria ratio insures that our body's immune systems are not excessively challenged by concentrations of pathogenic bacteria that can result in disease and infection. However the ecological balance indoors can be the complete opposite….where pathogenic bacteria is in the majority and probiotics or beneficial bacteria are in the minority. Conventional cleaning methods indiscriminately kill all bacteria, harmful and beneficial alike, contributing to this imbalance by creating a sterile environment which the more aggressive bad bacteria proliferate and dominate.
This increase beyond the normal outdoor ecological concentration of bad bacteria is the root of the problem.
The primary mode of disease transmission is via touch. Fully eighty percent of infectious diseases are transmitted by touch. The five second rule is a myth. Touching a surface immediately transmits all the bacteria on that surface to your hands then the average adult touches their eyes, mouth or nose fourteen times an hour allowing everything touched access into your body. For children this is even more frequent. Normally our immune systems can fight off most potential infections but when the pathogenic load that you are introducing into your body is excessive it can overwhelm your immune system resulting in infection and disease.
This is why resetting the indoor bacterial balance to mimic the normal outdoor ecology where our bodies were designed to thrive is critical to maintaining optimal heath.
Another major problem faced by the "Indoor Generation" are environmental allergens, which over 50 million Americans suffer from. Allergens elicit an immune system response resulting in itchy and watery eyes, runny nose, sinus inflammation and at times even a more serious reaction. These environmental allergens are everywhere with the most common being pollen, molds, dust mites and pet dander.
They are in places you would never think of such as inside your pillows and mattress, where millions of "Dust Mites" live. The mites themselves are not the only concern but the waste they leave behind. They are nature's vacuum cleaner, eating the millions of skin cells each one of us sheds every day, and that results in an excess of their fecal matter. In fact, if your pillow is more than two years old one third of its weight ( on average) can be made up of dust mites and their fecal matter. If your mattress is over ten years old fully one half of its weight ( on average) is dust mite fecal matter. This is the world's second greatest cause of environmental allergies and can act as a significant trigger of allergy and asthma attacks.
What Can We do About it?
BetterAir's has formulated a solution to the problems faced by the "Indoor Generation" ………our patented systems purify the indoor air, surfaces and even objects by diffusing billions of probiotic particles ( Enviro-Biotics) at a microscopic size which are distributed everywhere by the indoor air currents, eventually resting on surfaces and even penetrating objects such as mattresses, keyboards and carpets. The good bacteria consume organic irritants such as pollen, dust mite fecal matter and pet dander eliminating the allergens that cause the allergic reactions. BetterAir does not cure allergies but eliminates the allergens that trigger allergic reactions. We create a safe zone free of allergens.
BetterAir's Enviro-Biotics also consume the food sources that pathogens and germs feed upon in order to grow and propagate. This inhibits their ability for growth while replenishing the indoor environment with good bacteria resulting in a resetting of the indoor ecology to closely mimic the natural outdoor balances. The microscopic beneficial bacteria coat surfaces forming a shield to help prevent germs and pathogens that we come into contact with from gaining access into our bodies. Purifying surfaces and objects is critical to having clean air because whatever is on a surface or within an object is released back into the air with just a wave of a hand over a tabletop or the fall of a foot upon a carpet…...Any microscopic allergens and pathogens present are introduced into the air currents which carry them everywhere even into our lungs.
BetterAir's Enviro-Biotics are effective in eliminating unpleasant environmental odors such as pet odors and stale moldy smells by cleaning and purifying everywhere including hard to reach areas overlooked by many homeowners. BetterAir helps eliminate most bacterial aggravants.
BetterAir's Enviro-Biotics work in harmony with our body's natural ability to protect ourselves as the growth of a nourishing micro-flora results in a boost in our natural immunity while alleviating symptoms caused by indoor irritants.
BetterAir is the world's only probiotic air duct cleaning system, purifying the air ducts while using them to disperse the Enviro-Biotics. BetterAir even doubles the life of HVAC filters, reduces energy consumption and extends the life of the system.
BetterAir purification systems are cost-effective, chemical-free, all natural, organic and safe for humans and pets. Depending on the magnitude of the issue(s) you have to target in your home or work space results can be seen in a little as a few days.
BetterAir is for those who seek improved air quality and a cleaner, healthier and more balanced indoor environment resulting in overall better health. It's an incredible new technology for purifying the indoor environment while resetting the indoor ecological balance to optimal health conditions, while eliminating indoor allergens and odors plus minimizing the potential for the transmission of infectious pathogens.
Benefits of using BetterAir:
Eliminates the major indoor allergens such as pollen, dust mite fecal matter and pet dander that are responsible for coughing, scratchy throats, red eyes and runny noses.
Creates a hypo-allergenic safe zone free from organic irritants.
Cleans and purifies the indoor air, surfaces and objects which reduces and even eliminates asthma and allergy outbreaks.
Minimizes the transmission of infectious diseases by reducing the presence of indoor pathogens that can overwhelm our immune systems.
Eliminates mold spores and prevents the formation of indoor mold.
Eliminates organic orders such from pets, garbage, mildew and mold.
Reduces indoor dust accumulation and build up.
Cleans and purifies the indoor environment creating the healthiest possible indoor biome.
BetterAir will approximately double the life of the HVAC systems filters thereby cutting in half the cost of replacing HVAC air filters.
BetterAir cleans the HVAC ductwork thereby reducing airborne spread of pathogens from the HVAC ductwork. Since the ducts are continuously being cleaned there is no need for the expensive proposition of hiring a duct cleaning service for this job.
BetterAir reduces the buildup of mold and dirt ( mold is sticky and all dust etc. stick to it)on the HVAC heat/cooling coils increasing their efficiency and reducing the amount of electricity needed to heat or cool the facility.
BetterAir lengthens the life expectancy of the HVAC system as the system does not have to work as hard to do the same job which translates into longer life span.
More on Probiotics:
Probiotics are naturally occurring bacteria of a beneficial nature. They have no side effects and are completely safe for humans and animals. Probiotics are commonly used as food supplements and are a multi-billion dollar business. They have also been used in cosmetics and as a topical spray to treat athlete's foot, eczema, rosacea, dermatitis and acne as well as for water purification and even to treat gingivitis. Every day more and more positive benefits of Probiotics are being discovered.
For a brief, simple explanation of our entry level residential unit go to www.beterairus.com For more in depth information, commercial applications and videos go to www.baeus.us
Our Biotica800 Ecological Balancing System also just received a FIVE STAR review from Probiotics.Org https://probiotics.org/dr-ohhiras-probiotics-review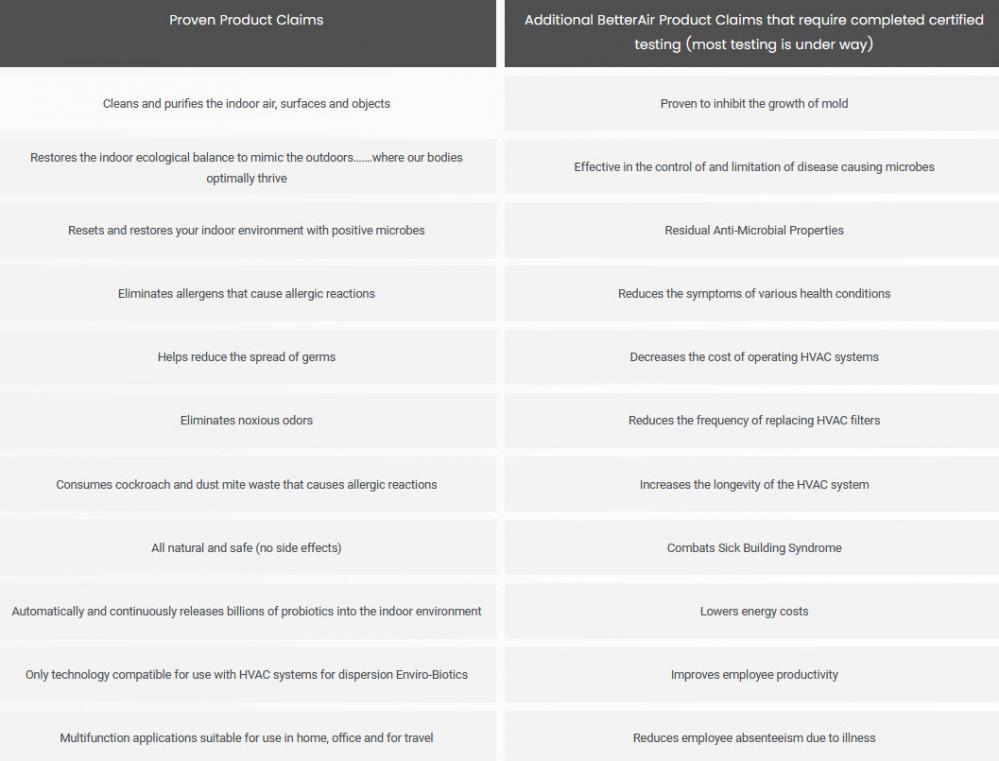 BetterAir and Cannabis:
BetterAir is an incredible new technology for purifying the indoor air, surfaces and objects utilizing the power of nature…..probiotics. BetterAir resets the indoor ecological balance by diffusing microscopic sized particles of probiotics ( beneficial bacteria) into the indoor environment that consume mold spores, pollen, dust mite and coach roach allergens as well as pet dander. BetterAir's benefits to indoor cannabis growers include elimination of mold ( our primary goal), increased yield, increased THC content within the plants as well as reduced pesticide use. A study conducted by East Coast Grow, a medical marijuana supplier located in Maine reported:
a 38% increase in yield on a per plant basis.
a 48% increase in THC % ( Lab Report attached)
no detectible mold ( Lab Report attached)
Probiotics are used extensively in agriculture to ward off disease and general plant health but this is the first aerosolized blend of probiotics ( we call our proprietary blend Enviro-Biotics )that can be used within indoor grow rooms to eliminate mold and yeast. That was the goal of our first study ( eliminate mold and yeast) but the increase in per plant yield and increase in THC content is consistent with healthier plants. Our probiotics are all natural, organic with no chemicals or side effects. They are safe for humans and animals.
We are in the process of finalizing a test at one of the largest growers in Colorado Karing Kind. Their preliminary grow Journal notes are attached for your review. I will have a full report shortly.
This is a link to a time lapse video showing BetterAir's Enviro-Biotics efficacy on mold growth: https://www.youtube.com/watch?v=oK1ls1i7Gbs
Here is a link to Probiotics.org's review of our Biotica800 https://probiotics.org/dr-ohhiras-probiotics-review
(Thank you BetterAir for sharing this information with us)
BA vs Germs
From the Experts at BetterAir:
Experts agree that, apart from regular, thorough hand washing, the best way to protect oneself against covid-19 or any viral infection is with a strong immune system. Treating your indoor environment with Betterair rebalances your indoor biome which allows your immune system to recharge and operate at full capacity.
Only Betterair disperses environmental probiotics into your living/workspace which eliminates organic allergens and pathogens.
New studies indicate that coronavirus types can survive on surfaces and objects for up to 9 days. When the viruses land on a surface and/or object that is touched, it can then infect a person even if the contact occurs days after the initial virus is deposited on the surface. Betterair's Enviro-Biotics® virtually eliminates the threat of pathogens (harmful viruses, bacteria and fungi) and allergens from surfaces and objects.
A study reviewed by Dr. Judy Neff, PhD, Head of Antimicrobial Atmospheres at AirRx Anti-Microbial Sciences, John Hopkins University summarizes that Betterair can reduce the FCV virus (a virus in the same family as the covid-19 virus) by more than 99%.
FCV (Feline Calicivirus) causes respiratory infection in cats and shares many common characteristics with the COVID-19 including where both originated…. from animals.
Exposure to only 15 minutes of Betterair's probiotics, followed by a 6-hour total hold time, resulted in a complete kill (>99.99%) of viruses.
Betterair is the world's first Probiotic Air Purifier which restores natural ecological balance to indoor environments with unique patented technology, reducing illnesses cause by allergens, mold, bacteria and viruses.
Unlike our ancestors 90% of our lives are now spent indoors.
Indoor air is at least 5 times more polluted than outdoor air.
80% of infectious diseases are transmitted by touching a contaminated surface or object and then transmitting it to our bodies via touching our mouth, eyes or nose.
Betterair's Enviro-Biotics technology disperses a unique microscopic mist that safely and effectively targets Pollen, Viruses, Dust Mite allergens, Pet Dander, Mold Spores, and Pathogens.
Continuous use of Betterair helps reduce and eliminate Allergy symptoms, Viruses, Asthma symptoms, Pet allergies, Bad odors, Mold growth.
I had asked BetterAir if their product had been specifically tested with COVID or if COVID is just too new for this kind of laboratory testing and this was their response, "Interestingly enough the CDC's recommended products have never been tested specifically on COVID-19 either ….see below:"
How does EPA know that the products on List N work on SARS-CoV-2?
While surface disinfectant products on List N have not been tested specifically against SARS-CoV-2, the cause of COVID-19, EPA expects them to kill the virus because they:
Demonstrate efficacy (e.g. effectiveness) against a harder-to-kill virus; or
Demonstrate efficacy against another type of human coronavirus similar to SARS-CoV-2.
All surface disinfectants on List N can be used to kill viruses on surfaces such as counters and doorknobs.
Because SARS-CoV-2 is a new virus, this pathogen is not readily available for use in commercial laboratory testing to see if a certain disinfectant product is effective at killing the virus.
(Source https://www.epa.gov/coronavirus/how-does-epa-know-products-list-n-work-sars-cov-2 from May 25, 2020)
Be Aware of Imposters
Betterair Has No Competitors at this Time
Betterair is the only company that has its proprietary blend of environmental probiotics certified as safe for humans, animals and the environment by Made Safe. Additionally our product claims are clinically verified via controlled laboratory testing by the University Of Oregon, University of Wisconsin as well as countless independent laboratory case studies detailing the effectiveness of Betterair' s environmental probiotics formula in real world situations.
BetterAir has received the Parent Tested Parent Approved five star recommendations for its effectiveness in eliminating organic allergens from the indoor environment as well as the Allergy Friendly certification and Sensitive Choice Award.
Additionally we have submitted BetterAir to the EPA for registration as a Bacteriostat and Fungistat the filing of which required us to successfully pass all the required EPA safety protocol tests. We anticipate receiving that registration in Q4 of this year.
There are no other environmental probiotics for sale anywhere in the world which have the clinical substantiation on their safety and effectiveness as BetterAir does. Even our distribution systems are patented in order to disperse a one micron size particle of environmental probiotics which is needed in order for the air currents properly disperse the probiotics to treat all the surfaces and objects within the treatment area. Systems that disperse larger particles just fall to the surface below where they are dispersed.
You must beware of companies that portray their products to have the same claims and effectiveness as BetterAir with no clinical substantiation or certifications as to their safety and effectiveness……. without knowing what is contained within them or if they are safe for humans, animals and the environment you are taking risks. I know of one company that has purchased off the shelf essential oil diffusers from China (they specifically are not designed for water based formulations) and are loading them with agricultural probiotics.
Whether you decide BetterAir is the right choice for you or not just be careful and vet the product as you would vet BetterAir.
-- Statement directly from BetterAirUS
More Info

Download BetterAir Testing Results to learn more about BetterAir\'s extensive research.
Download BetterAir vs Viruses to learn more about reducing your risk from viruses (including the Coronovirus) and other illnesses with BetterAir.
Download BetterAir Benefits to learn about the benefits BetterAir Probiotic products can offer.
Download BetterAir Awards and Certifications to learn more about BetterAir\'s awards and certifications.
Download BetterAir BA-500 Spec Sheet / Brochure to learn more about BetterAir BA-500.
Download BetterAir BA-1200 Spec Sheet / Brochure to learn more about BetterAir BA-1200.
Download BetterAir BA-1800 Spec Sheet / Brochure to learn more about BetterAir BA-1800.
Download BetterAir FAQs to learn more about BetterAir directly from the manufacturer.
Download BetterAir Medical Package to learn more about the effectiveness of BetterAir\'s technology in a medical setting.
Download BetterAir Brochure to learn more about the effectiveness of BetterAir\'s technology.
Download BetterAir Welcome Package for an closer look into the research, technology, and company.
Download BetterAir Probiotic Air Purifier Technology to understand how and what BetterAir\'s technology works.
Download BetterAir Reduces Allergens to understand how BetterAir Probiotic air purifiers help with allergens.