Whether it is small or large, we believe every home should have an air purifier to make it a healthier living space for its inhabitants. Small homes, however, can present a little bit of a challenge in terms of finding space for an air purifier. This is why several manufacturers make wall-mounted air purifiers. These air purifiers can be attached to a mounting bracket and hung on a wall in any room of your house, causing them to take up space that otherwise would have gone unused. For those of you who are interested in air purification for smaller homes, here is a rundown of three of the best wall-mounted air purifiers on the market.
Rabbit Air Minus A2
   One of the best air purifiers in general, the
Rabbit Air Minus A2
is a combination HEPA and carbon filtration unit that can cover up to 700 square feet of space, making it perfect for small homes and apartments. This unit can accommodate a wall-mounting bracket, allowing it to be hung on any wall in your home. This bracket can be
purchased separately
here at US Air Purifiers. As an added bonus, the Rabbit Air Minus A2 also features a side-mounted mood light that will let you use it as an active piece of your decor. If you want something even more decorative, you can check out the artist series of the Rabbit Minus A2 models (see featured image above). These units depict classic pieces of artwork. When hung on a wall, they appear more like fine paintings than wall-mounted air purifiers.
Blueair Pro XL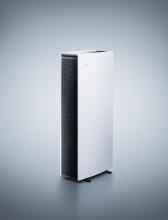 Another of the best wall-mounted air purifiers you'll find in today's market comes from Blueair, which is among the most well-known makers of air purification systems. The
Blueair Pro XL
is a high-capacity unit which will perform 5 air cycles per hour in spaces of up to 1,180 square feet. The XL is equipped with a HEPA filter and can optionally be equipped with an extra carbon filtration system. The mounting bracket for the Blueair Pro XL comes separately from the air purifier, but can be added on as an option at the point of sale.
AirFree Air Fit 800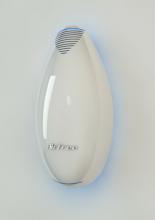 For those who need wall-mounted air purifiers on a budget, the
AirFree Air Fit 800
is the perfect solution. Though this purifier covers less area than the other two options on this list at 180 square feet, it has the huge advantage of being priced at just $169, making it accessible to practically anyone. The unit is also extremely small, making it easy to mount in a bedroom, bathroom or other small space. Finally, the AirFree Air Fit 800 offers the advantages of being a filterless air purifier. This unit uses a thermal heating element to eliminate particles in the air, meaning no regular maintenance, no filter changes and virtually no noise!
How to Buy Wall-Mounted Air Purifiers
If you are interested in getting a wall-mounted air purifier, US Air Purifiers has your needs covered. Simply select the model you want and, if applicable, the mounting bracket that it needs to be held onto a wall. These brackets are easy to install and provide a firm, stable hold, ensuring your air purifier will stay in place as it should. Still have questions about wall-mounted air purifiers? Don't worry, we're here to help. Feel free to contact us with your questions, and we'll be happy to help you select the ideal unit for your needs.