If you're researching the various kinds of air purifier filtration, chances are you've come across several references to HEPA filters. HEPA air purifiers are some of the most well-liked units in the air purification industry for both residential and commercial use, but just what are HEPA air purifiers, and how do HEPA filters work?
  First Off, What is a HEPA Filter?
HEPA filters are filter systems that are meant to collect solid particulates from the air. In order to qualify as HEPA, a filter must be able to filter 99.97 percent of all solid particles that are greater than 0.3 microns in diameter. This means that a HEPA air purifier will remove dust, pollen, hair, sawdust, and even larger bacteria from the air around it. It will not, however, remove gases, smaller bacteria, viruses, smoke or other contaminants that are either non-solid or are solid but smaller than 0.3 microns.
  How Do HEPA Filters Work?
In order to filter out such tiny particles, HEPA filters require comparatively large amounts of filter material. Generally speaking, HEPA air purifier filters are composed of fiberglass. Because the fibers in fiberglass are arranged at random and are so small, they are excellent at catching the tiny particles that need to be removed. As air passes through multiple layers of this randomly assorted filter material, particles are picked up and retained by the filter, leaving the air cleaned of all but the smallest particulate contaminants by the time it has passed through all of the filter's layers.
  Some of the Best HEPA Air Purifiers
If you're interested in using a HEPA air purifier to rid the air around you of harmful contaminants and promote the health of you and your family, there are many different options to choose from. Below, you'll find some of the best HEPA air purifiers currently on the market.
 Amaircare 3000 HEPA Air Purifer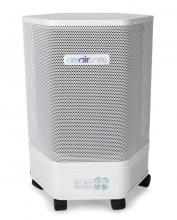 One of the best-selling HEPA units on the market, the Amaircare 3000 offers excellent quality and function at a reasonable price point. In addition to its HEPA filtration system, the Amaircare 3000 also uses carbon filters to remove gases, odors and VOCs, making it one of the most versatile units on the consumer market. The Amaircare 3000 can clean up to 1,700 square feet of space, features durable all-steel construction and comes in either black or white.
See Full Details and Pricing for the Amaircare 3000
Rabbit Air Minus A2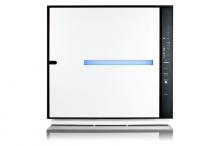 Another excellent option among HEPA air purifiers is Rabbit Air's Minus A2 model. This slim, aesthetically pleasing air purifier is a favorite with buyers all over the world. The unit is almost completely silent, features a side-panel mood light and can be wall mounted to keep it from taking up floor space. The Rabbit Air Minus A@ can clean air in spaces of up to 815 square feet.
See Full Details and Pricing for the Rabbit Air Minus A2
Blueair 205 HEPA Air Purifer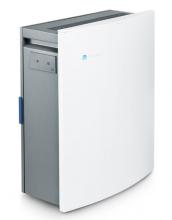 Blueair is currently one of the best manufacturers of air purifiers, and the company's line of HEPA air purifiers is no exception. The Bluair 205 HEPA air purifier is a reliable and budget-friendly solution from rooms, apartments, smaller homes and offices. This air purifier is also almost completely silent.
See Full Details and Pricing for the Blueair 205 HEPA Air Purifier
   If you want to use a home air purification system to ensure that the air you and your family breathe every day is as clean as possible, a HEPA air purifier is a great place to start. If you have questions about which air purifier is best for your needs, feel free to contact us directly, and we'll be happy to guide you through the process of choosing your perfect air purification system.