As we all know, different air purifiers work best in different situations. Some are best suited to removing VOCs and odors, while some focus on particulate debris. The same is true with regards to the spaces in which they are used. Larger units are great for whole-home use, but what if you just want a bedroom air purifier for use in a smaller space? Bedroom air purifiers have a very particular set of characteristics, as they must be both small and extremely quiet. Here are our top picks for the best bedroom air purifiers.
  Amaircare Roomaid
   Covering up to 300 square feet, the Amaircare Roomaid is a great option for bedrooms or any smaller space. This unit offers both HEPA and VOC filtration, giving it the ability to remove harmful contaminants of many types. A washable pre-filter is also included which can be reused over and over. With a two-speed high efficiency fan, 360 degree air intake and an all-metal outer construction, the Amaircare Roomaid is easily one of the highest quality bedroom air purifiers on the market.
See Full Specs and Details on the Amaircare Roomaid
  Austin Air Bedroom Machine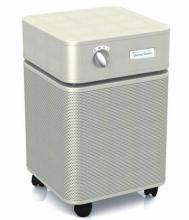 Austin Air's Bedroom Machine is one of the only air purifiers that has ever been specifically designed for use in a bedroom. Offering almost unparalleled 5-stage filtering capabilities designed the meet specifications set out by a Johns Hopkins Medical School study, the Bedroom Machine removes both particles and gases at an optimal efficiency rate. With the incredibly fresh air produced by the Bedroom Machine, users can get a better night's sleep.
See Full Specs and Details on the Austin Air Bedroom Machine
  Airfree T800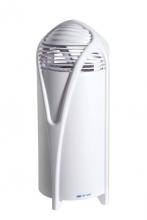 If you are easily bothered by noise when you are sleeping, the completely silent Airfree T800 may be the best bedroom air purifier for you. This small air purifier uses a thermal ceramic core to eliminate dust, germs, mold and even viruses in the air in complete silence. Best of all, this system requires no maintenance or filter changes, meaning that you can plug in your T800 and forget it. If you like to have some light in your room while you sleep, you can also check out Airfree's Lotus model, which offers color-changing mood lighting.
See Full Specs and Details on the Airfree T800
Blueair Pro M
   Blueair has always been known as one of the leading manufacturers of air purifiers, and the company's pro series M model is no exception. Covering 390 square feet and offering excellent protection against particulate contaminants, the Pro M is one of the best air purifiers for smaller spaces. If you want added protection against odors, gases and VOCs, the Pro M can also be outfitted with a Blueair Smokestop filter. This model is also extremely quiet, making it a good option for light sleepers.
See Full Specs and Details on the Blueair Pro M
  Rabbit Air BioGS 2.0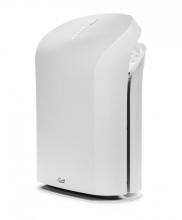 Topping out our list of the best bedroom air purifiers is Rabbit Air BioGS 2.0 model, a dual HEPA and VOC air purification unit that offers ultra-quiet high performance in an aesthetically pleasing package. In addition, the BioGS 2.0 offers a negative ion generator that can be easily turned on and off as preferred and an easy-to-understand air quality indicator. This unit is small enough to be set inconspicuously in a corner or by a wall, making it an ideal option for bedrooms and small spaces.
See Full Specs and Details on the  Rabbit Air BioGS 2.0
Though these are some of the best bedroom air purifiers, there are many other units that are excellent for bedroom usage. If you have any questions about these units or others that are available through our site, feel free to
contact us
, and we'll be happy to help you select the best bedroom air purifier for your space and needs.