BetterAir Probiotic Refill Bottle for BA-1800
BetterAir BA-1800 Probiotic Refill bottle is easy to change and protects you from harmful contaminants and common allergens. High quality environmental probiotic to assure optimal purification and health benefits. Replace as needed.
Product Description
BetterAir Probiotic Refill Bottle for BA-1800 is easy to change and protects you from harmful contaminants.
High quality probiotic to assure optimal purification and health benefits.
Replace as needed. You can always add more probiotics if you wish.
Benefits
Automatic and continuous cleaning of air ducts and HVAC components
Reduces foul odors caused by microbial contamination such as mold and mildew

Consumes organic resources such as dust mite waste, pet dander, pollen and dead skin cells

Replenishes indoor spaces with beneficial probiotics to restore indoor ecological balance

Creates a protective shield on surfaces and inside shared objects to protect your personal space from irritants
Specifications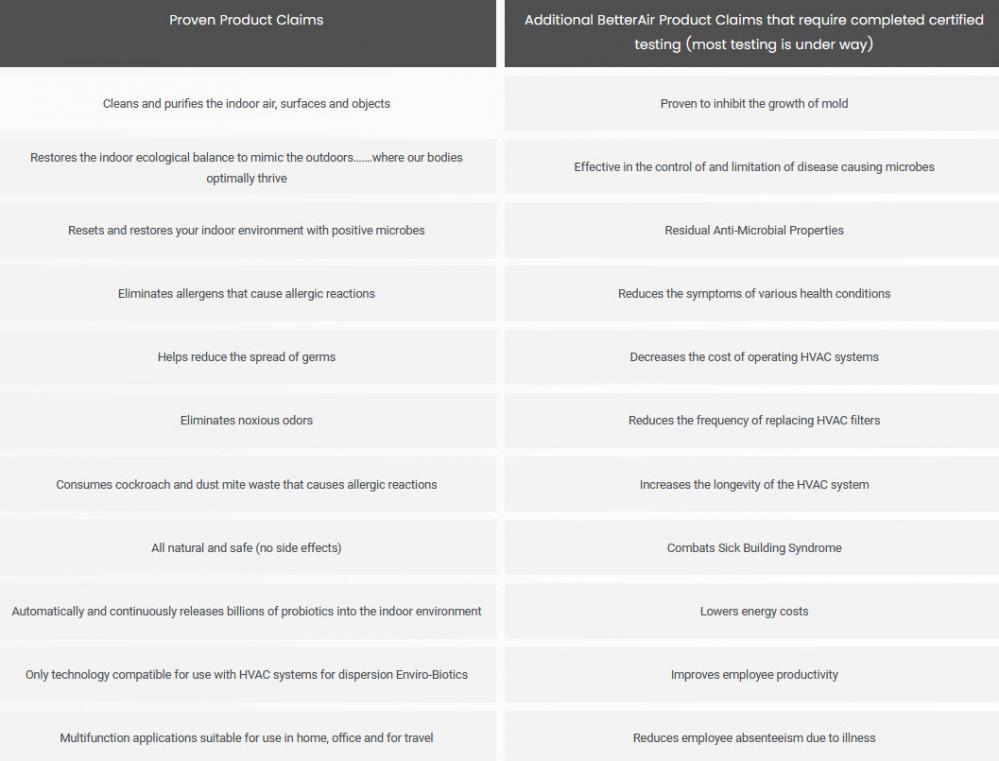 BA vs Germs
From the Experts at BetterAir:
Experts agree that, apart from regular, thorough hand washing, the best way to protect oneself against covid-19 or any viral infection is with a strong immune system. Treating your indoor environment with Betterair rebalances your indoor biome which allows your immune system to recharge and operate at full capacity.
Only Betterair disperses environmental probiotics into your living/workspace which eliminates organic allergens and pathogens.
New studies indicate that coronavirus types can survive on surfaces and objects for up to 9 days. When the viruses land on a surface and/or object that is touched, it can then infect a person even if the contact occurs days after the initial virus is deposited on the surface. Betterair's Enviro-Biotics® virtually eliminates the threat of pathogens (harmful viruses, bacteria and fungi) and allergens from surfaces and objects.
A study reviewed by Dr. Judy Neff, PhD, Head of Antimicrobial Atmospheres at AirRx Anti-Microbial Sciences, John Hopkins University summarizes that Betterair can reduce the FCV virus (a virus in the same family as the covid-19 virus) by more than 99%.
FCV (Feline Calicivirus) causes respiratory infection in cats and shares many common characteristics with the COVID-19 including where both originated…. from animals.
Exposure to only 15 minutes of Betterair's probiotics, followed by a 6-hour total hold time, resulted in a complete kill (>99.99%) of viruses.
Betterair is the world's first Probiotic Air Purifier which restores natural ecological balance to indoor environments with unique patented technology, reducing illnesses cause by allergens, mold, bacteria and viruses.
Unlike our ancestors 90% of our lives are now spent indoors.
Indoor air is at least 5 times more polluted than outdoor air.
80% of infectious diseases are transmitted by touching a contaminated surface or object and then transmitting it to our bodies via touching our mouth, eyes or nose.
Betterair's Enviro-Biotics technology disperses a unique microscopic mist that safely and effectively targets Pollen, Viruses, Dust Mite allergens, Pet Dander, Mold Spores, and Pathogens.
Continuous use of Betterair helps reduce and eliminate Allergy symptoms, Viruses, Asthma symptoms, Pet allergies, Bad odors, Mold growth.
I had asked BetterAir if their product had been specifically tested with COVID or if COVID is just too new for this kind of laboratory testing and this was their response, "Interestingly enough the CDC's recommended products have never been tested specifically on COVID-19 either ….see below:"
How does EPA know that the products on List N work on SARS-CoV-2?
While surface disinfectant products on List N have not been tested specifically against SARS-CoV-2, the cause of COVID-19, EPA expects them to kill the virus because they:
Demonstrate efficacy (e.g. effectiveness) against a harder-to-kill virus; or
Demonstrate efficacy against another type of human coronavirus similar to SARS-CoV-2.
All surface disinfectants on List N can be used to kill viruses on surfaces such as counters and doorknobs.
Because SARS-CoV-2 is a new virus, this pathogen is not readily available for use in commercial laboratory testing to see if a certain disinfectant product is effective at killing the virus.
(Source https://www.epa.gov/coronavirus/how-does-epa-know-products-list-n-work-sars-cov-2 from May 25, 2020)
Be Aware of Imposters
Betterair Has No Competitors at this Time
Betterair is the only company that has its proprietary blend of environmental probiotics certified as safe for humans, animals and the environment by Made Safe. Additionally our product claims are clinically verified via controlled laboratory testing by the University Of Oregon, University of Wisconsin as well as countless independent laboratory case studies detailing the effectiveness of Betterair' s environmental probiotics formula in real world situations.
BetterAir has received the Parent Tested Parent Approved five star recommendations for its effectiveness in eliminating organic allergens from the indoor environment as well as the Allergy Friendly certification and Sensitive Choice Award.
Additionally we have submitted BetterAir to the EPA for registration as a Bacteriostat and Fungistat the filing of which required us to successfully pass all the required EPA safety protocol tests. We anticipate receiving that registration in Q4 of this year.
There are no other environmental probiotics for sale anywhere in the world which have the clinical substantiation on their safety and effectiveness as BetterAir does. Even our distribution systems are patented in order to disperse a one micron size particle of environmental probiotics which is needed in order for the air currents properly disperse the probiotics to treat all the surfaces and objects within the treatment area. Systems that disperse larger particles just fall to the surface below where they are dispersed.
You must beware of companies that portray their products to have the same claims and effectiveness as BetterAir with no clinical substantiation or certifications as to their safety and effectiveness……. without knowing what is contained within them or if they are safe for humans, animals and the environment you are taking risks. I know of one company that has purchased off the shelf essential oil diffusers from China (they specifically are not designed for water based formulations) and are loading them with agricultural probiotics.
Whether you decide BetterAir is the right choice for you or not just be careful and vet the product as you would vet BetterAir.
-- Statement directly from BetterAirUS
More Info

Download BetterAir Testing Results to learn more about BetterAir\'s extensive research.
Download BetterAir vs Viruses to learn more about reducing your risk from viruses (including the Coronovirus) and other illnesses with BetterAir.
Download BetterAir Benefits to learn about the benefits BetterAir Probiotic products can offer.
Download BetterAir Awards and Certifications to learn more about BetterAir\'s awards and certifications.
Download BetterAir BA-500 Spec Sheet / Brochure to learn more about BetterAir BA-500.
Download BetterAir BA-1200 Spec Sheet / Brochure to learn more about BetterAir BA-1200.
Download BetterAir BA-1800 Spec Sheet / Brochure to learn more about BetterAir BA-1800.
Download BetterAir FAQs to learn more about BetterAir directly from the manufacturer.
Download BetterAir Medical Package to learn more about the effectiveness of BetterAir\'s technology in a medical setting.
Download BetterAir Brochure to learn more about the effectiveness of BetterAir\'s technology.
Download BetterAir Welcome Package for an closer look into the research, technology, and company.
Download BetterAir Probiotic Air Purifier Technology to understand how and what BetterAir\'s technology works.
Download BetterAir Reduces Allergens to understand how BetterAir Probiotic air purifiers help with allergens.