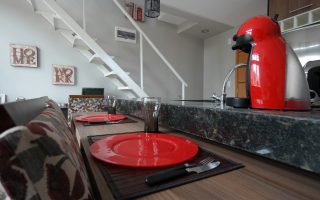 In recent years, Airbnb has emerged as a huge force in the travel industry. As of June 2020, the online house-sharing platform offered some 6.1 million listings, up from 4.4 million just two years earlier. As the platform has grown, Airbnb hosts are increasingly looking for ways to offer their guests the best possible service and accommodations. This has led some hosts to wonder about the possibility of using air purifiers in their Airbnb rentals. Here's what you need to know about using an air purifier in your Airbnb and how it can help optimize your guests' experience.
Why Use an Air Purifier in an Airbnb Rental?
At first glance, an air purifier might not seem like a major amenity people are looking for when choosing a rental. At a time when more and more people are concerned with the possibility of airborne pathogens, though, using an air purifier can offer your guests extra peace of mind. Combined with a thorough cleaning regimen, air purification can ensure that your rental is as safe and healthy as possible for those who stay with you. Advertising air purification on your listing may also help to attract health-conscious visitors to your Airbnb.
Beyond offering an extra layer of security from pathogens, an air purifier can also be helpful if your listing is located in a large city. Densely populated areas tend to have higher pollution levels that could adversely affect people with asthma, COPD or other respiratory diseases. These visitors will be happy to see air purification listed on your Airbnb, which again may help you attract more guests and book your listing more consistently.
Finally, using a good air purifier can help to create an overall feel of cleanliness in your rental. Air purifiers equipped with carbon filters can control odors, while HEPA filtration captures small particulate debris in the air. By reducing both odors and fine particulates, a good air purifier can help make your rental smell and feel cleaner for your guests.
What Are the Best Air Purifiers for Airbnb Rental Units?
One of the beauties of Airbnb is that every rental property is unique. Since different listings will have different sizes and configurations, it's difficult to list air purifiers that will be ideal for every possible Airbnb. With that said, there are a few basic rules we can use to narrow the options. First, an air purifier used in an Airbnb rental should offer broad protection from both particulate and gaseous contaminants, meaning it should be equipped with HEPA and carbon filters. It's also a good idea to pick a fairly quiet air purifier, since your guests may not like the humming that louder units can produce.
With these guidelines in mind, there are a few units that stand out. Below, we've listed some of our top residential air purifiers that you can use in your Airbnb:
IQAir Availability: Due to unforeseen circumstances with our supplier IQAir we no longer carry their products and filters. We apologize for this inconvenience but do offer competitive IQAir air purifier products which provide the same or better air purifier specifications.  If you have any questions about IQAir from previous purchases from our website or need assistance please contact us directly for help.
Of course, it's important to take the unique characteristics of your rental into account when picking out the right unit. Have questions about which air purifier is right for your Airbnb? We're here to help! Feel free to contact us with your questions, and we'll be happy to provide you with answers and personalized product recommendations based on the needs of your property and your guests.