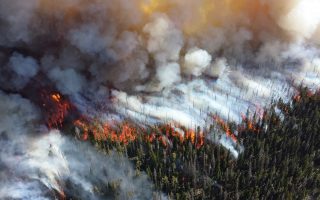 If you are living in the parts of northern California affected by the current wildfires, you are certainly already aware of the danger that they pose to life and property. What you might not be as aware of, however, is the effect the smoke and ash produced by them can have on surrounding areas. We recently published an article explaining the health effects of wildfires and suggesting some of the top units that can help individuals and families living in California protect themselves. One unit, however, was left off that list so that we could feature it on its own: the EnviroKlenz air purifier.
Why is EnviroKlenz So Good for These Fires?
The EnviroKlenz air purifier features one of the most advanced VOC filtering systems on the market. This allows it to remove odors and gases without adding any treatment chemicals back into the air. In a situation where so many gases and pollutants are being introduced to the air by these fires, this kind of filtration is extremely handy.
On top of this VOC filtration, the EnviroKlenz offers top-notch HEPA filtration, which removes particles from the air. Wildfires create immense amounts of ash as they move through forested areas, meaning that many of the contaminants they produce are particles, rather than gases. Fortunately, the EnviroKlenz targets both.
  EnviroKlenz Masks-Protection For Outdoors
The unfortunate limitation of all air purifiers is that they can only protect you from contaminants indoors. On a day-to-day basis, it isn't a huge problem, but when the air you're breathing is as polluted as it gets during major wildfires, it's a different story. Luckily, EnviroKlenz makes an extensively-tested protective mask that can provide you with air filtration outdoors. Using the same VOC filtering formula as the company's air purifiers, these masks can make going outside during these wildfires much safer for your health.
If you have questions about our EnviroKlenz products or need advice about protecting yourself and your family while these wildfires continue, please feel free to contact us. We're happy to answer all of your questions and help you get the air purification products you need to protect your health.