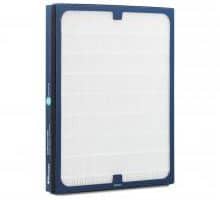 The Blueair Classic series, consisting of the 205, 405 and 605 units, now comes with the option to add a Blueair DualProtection filter. This new DualProtection filter option replaces the SmokeStop filter, which was previously available on the Blueair Classic series.
  Features and Advantages of Dual Protection Filters
Blueair's DualProtection filters offer powerful multi-purpose filtration that helps to make the Blueair Classic series units more versatile. With a DualProtection filter, your Blueair Classic air purifier can remove not only particles but also gases and odors from the air in your home. As a result, you'll get a higher level of protection than you would from particulate filtration alone. Best of all, these filters are designed to filter out impurities without in any way reducing the clean air delivery rate (CADR) of the units equipped with them.
At the heart of the DualProtection filter system is activated coconut carbon filter material, which can remove gaseous impurities in the air without requiring chemical additives. Using this system, the DualProtection filters can remove gaseous pollutants up to four times faster than other carbon-based filters.
The DualProtection filters are fitted specifically to their corresponding Classic series air purifiers. These filters should be changed every six months to keep them fresh and in top working condition. If you need help remembering when to change the filters in your air purifier, keep in mind that you can use our handy filter change reminder tool to get automated notifications when it's time for your next filter change.
Have questions about DualProtection filters, the Blueair Classic series or other products sold on usairpurifiers.com? Don't worry, we're here to help! Just contact us with your questions, and we'll be happy to give you answers and personalized product recommendations that will help you pick out the best air purifier for your unique personal needs.