As more and more states legalize recreational marijuana use, people across the country are looking for ways to minimize weed smoke odors. An easy way to do this is by using a good air purifier. Here's what you need to know about air purifiers for marijuana smoke and some of our top models for this purpose.
Why Use an Air Purifier for Marijuana Smoke Odors?
Although many states now allow marijuana use, the smell can still be a problem. Much like cigarette smoke, the odor from marijuana smoke can permeate carpets, furniture and even walls, eventually making it very difficult to remove. Heavy smoke can also get into items of clothing, meaning it can be difficult to get the smell off of yourself when you're ready to go out.
If you live with other people, it's also important to keep in mind that they may not want to be exposed to marijuana smoke. Smoke inhalation is aggravating to the respiratory system and can cause coughing or sneezing. For people with asthma or other chronic respiratory conditions, the smoke and odors produced by marijuana can even trigger respiratory attacks. So, if you live with anyone sensitive to smoke, it's important to use an air purification device to keep your own smoking activities from affecting them.
What Kind of Air Purifier Do You Need?
To get rid of smoke and odors from marijuana, it's generally a good idea to use a combination HEPA and carbon filtered air purifier. The HEPA filter will take care of the tiny particles that make up smoke, while the carbon filter will help to remove the odors associated with weed smoke. Together, these two filter types will give you the maximum protection against both marijuana smoke and most other types of airborne contaminants.
Our Top Recommended Units
The good news is that there are plenty of great air purifiers out there that will do a good job of removing marijuana smoke and odors. Below, you'll find eight units that we recommend for people using marijuana in their homes. For more great options, you can also check out the marijuana use product page on our website!
Airpura UV600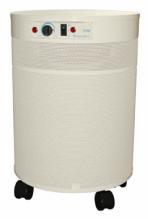 One of the most comprehensive air purifiers on the market, the Airpura UV600 is a great choice for dealing with marijuana smoke. This unit covers up to 2,000 square feet and features HEPA, carbon and ultraviolet filtration. While the HEPA and carbon filters deal with smoke, odors, VOCs and particles, the UV lamp in this purifier will help to protect you from bacteria and viruses.
While the UV600 can help you deal with weed smoke, it's also a great unit for improving the overall air quality in your home. By removing everything from dust to viruses, the Airpura UV600 can help you live a healthier life and enjoy the benefits of cleaner home air.
Field Controls TRIO

Like the UV600, the Field Controls TRIO is a broad spectrum air purifier equipped with HEPA, carbon and UV filtration. The TRIO is considered a medical-grade air purifier suitable for use in just about any situation, including for getting rid of marijuana smoke. This unit covers up to 1,000 square feet, making it a great solution if you have a smaller home or a mid-sized apartment. In addition, the TRIO features automatic VOC monitoring that will increase its fan speed whenever it detects harmful gases in the air.
Amaircare 3000 VOC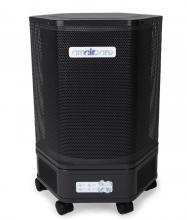 Although it doesn't feature a UV germicidal lamp, the Amaircare 3000 VOC has the HEPA and carbon filtration you need to deal with the smoke and odor produced by burning marijuana. This unit can cover up to 1,800 square feet and features durable all-metal construction to ensure a long and useful lifespan. Other great features of the Amaircare 3000 include a helpful filter change reminder light, silent mode functionality and a high-efficiency fan.
AllerAir AirMedic Pro 6 UV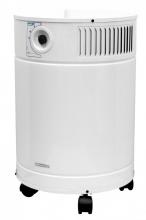 Rated for up to 1,800 square feet, the AllerAir AirMedic Pro 6 UV offers HEPA, Carbon and UV filtration, as well as durable all-metal construction. This air purifier is a great option for large apartments and mid-sized homes. Thanks to its large carbon filter, this model will do an especially good job of filtering out the odors from marijuana smoke. If odor is your primary concern, this model or a similar one targeted at odors and VOCs will likely be a good choice for your needs.
Austin Air Healthmate Plus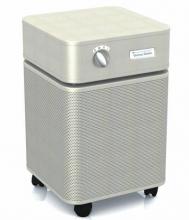 A leading model from Austin Air, the Healthmate Plus is an all-metal air purifier designed for spaces of up to 1,500 square feet. The Healthmate Plus features a 3-speed fan and a 360-degree air intake for maximum air flow. This model also comes with a 5-year manufacturer's warranty. While the Healthmate is usually used by people who suffer from asthma or allergies, it is also a great unit for dealing with smoke in residential settings.
Blueair Pro L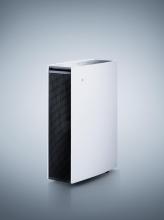 The Blueair Pro L is a leading air purifier for marijuana smoke because of its high number of air changes per hour. While most air purifiers are rated for only 1-2 changes each hour, the Pro L can perform 5 in spaces of up to 780 square feet. With more air changes, the Pro L can remove more particles and odors than most competitive air purifiers.
In addition to its high air flow rate, the Blueair Pro L offers high energy efficiency, durable construction, a filter change indicator light, variable fan speeds and an optional air intelligence monitor for automatic setting changes. For maximum results, we recommend upgrading this unit with the optional SmokeStop and carbon filters to help remove the odors and gases produced by burning marijuana.
Amaircare 2500 VOC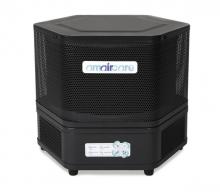 The smaller cousin of the Amaircare 3000, the 2500 model offers all of the same features in a more compact package. Covering up to 1,250 square feet, this air purifier is a great option for smaller spaces or for buyers who are on tight budgets. While it may not provide the same coverage as some of the larger units on this list, the Amaircare 2500 VOC will do a good job of removing smoke and odors in small areas. As long as you can confine your smoking to a single area of your home, you should be able to get away with a unit like the 2500 model.
Tips for Using an Air Purifier for Marijuana Smoke
In addition to selecting the right air purifier, there are also a few things you can do to make sure you minimize marijuana smoke and odors as much as possible. Here are a few tips that will help you keep the indoor effects of your smoking to a minimum (note: these tips can also help with cigarette smoke).
Use a Designated Smoking Area
One of the best things you can do to keep odors from building up in your home is to smoke only in one area. Find a place that you frequently choose to smoke and put your air purifier in that place so that it can take up smoke as quickly as possible. For some medical marijuana users, using the bedroom as a designated smoking area ends up being a sensible choice, since many people with anxiety disorder use medical cannabis to help relax themselves before going to sleep.
Smoke Outside When Possible
Just like cigarette smoke, marijuana smoke is far better released outdoors than indoors. If you can smoke outside when the weather permits, your air purifier will have less smoke to capture and have an easier time keeping odors under control. Stepping outside to smoke is also the surest way to make sure the smoke doesn't aggravate anyone else who lives with you.
Avoid Smoking Too Much
Needless to say, the amount of marijuana you smoke will also affect how hard your air purifier has to work to keep up with it. So, if you want to make sure your marijuana smoking doesn't wreak havoc with your indoor air quality, it can be helpful to avoid smoking too much. For medical smokers, this is usually as simple as figuring out what you need to have the desired medicinal effect and only smoking that much.
Find a Low-odor Strain
As anyone can tell you, cannabis strains have come a long way in recent years. While many strains have been bred to maximize THC or other compounds, some have been cultivated for producing fewer odors than their more pungent counterparts. If you can find a strain that doesn't give off as much odor when burned, you'll be one step ahead in the fight against weed odors taking over your home.
Using these tips and a good residential air purifier, you'll be able to keep your marijuana use from sharply decreasing your indoor air quality and filling your home with strong odors. While you will still smell the smoke while you're actually smoking, using the right air purifier will make sure that your entire home doesn't begin to smell like it at all times.
Still have questions about using air purifiers for marijuana smoke and the odors that come with it? We're here to help! Feel free to send us your questions, and we'll be happy to provide you with answers and personalized product recommendations based on your needs.